When my friend Ken said that it was his goal this year to get me to do a double century (200 miles), I thought he was crazy, but I was also up for the challenge. He introduced me to this group called the Randonneurs, whose shortest rides are 200 KM (130 miles) and up to 600 KM (390 miles) generally with the rare 1200 KM (OMG my body hurts just thinking about it). The longest I'd ever ridden was 107 miles and I didn't know what it would feel like to go longer than that.
Going right in line with my past history of foolish decisions that look like I'm trying to find new ways to make my body hurt, I joined the Randonneurs this year. I was attracted to the Faultline 200K in June since it went within a few blocks of my friend Becca's house and her mom's house in San Rafael along with being roads I was already familiar with. Ken had to cancel on me for another ride, but offered to make it up to me by doing the Faultline with me. Sure, apology accepted! 🙂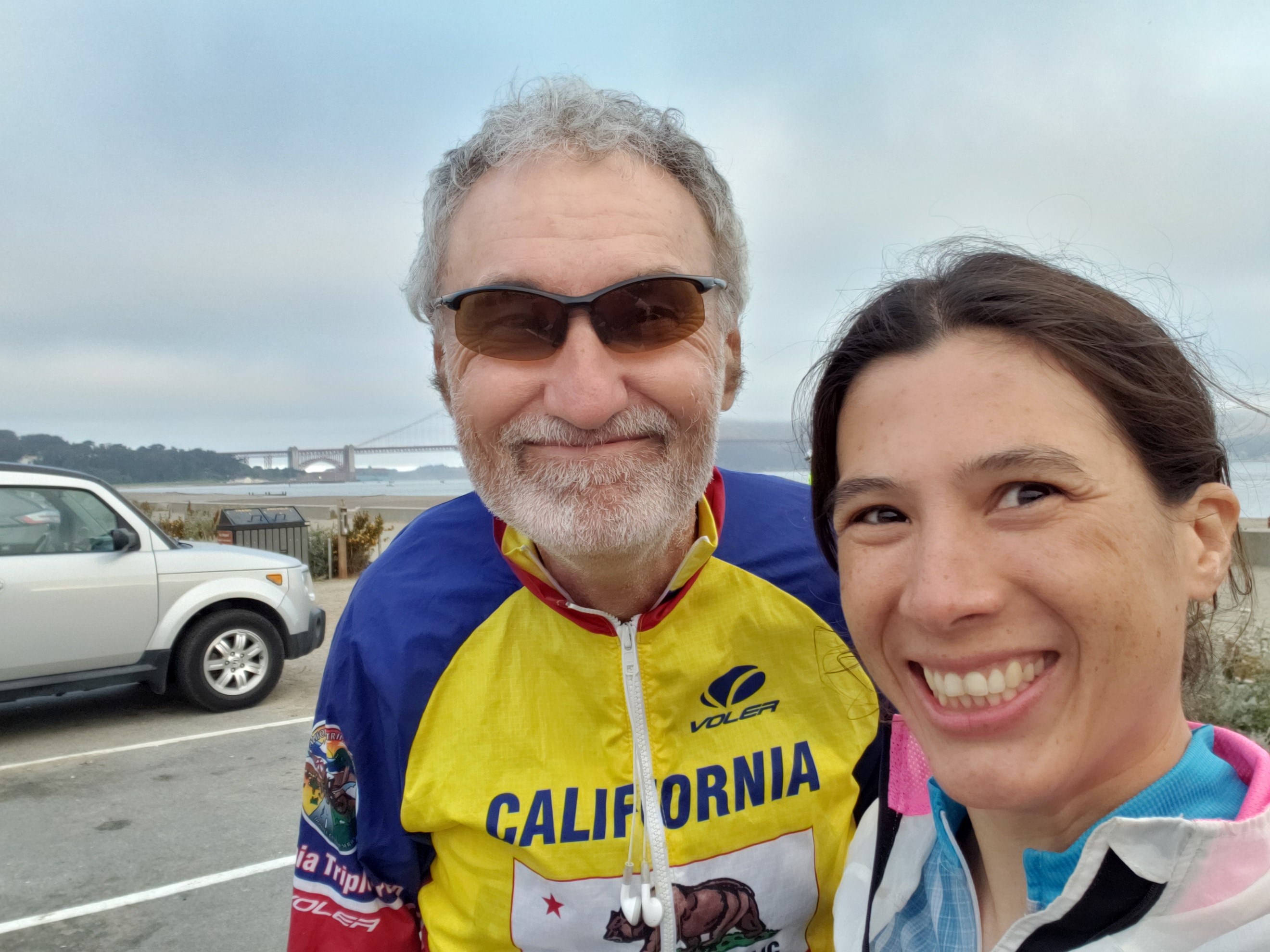 Bright-eyed and bushy-tailed before the ride!
Ken picked me up on the morning of Saturday, 29 June to head to the start at Crissy Field. I'm not sure if it was nerves or what, but my stomach was very upset that morning. I was trying to push through it though and if anything, I wasn't bailing on Ken. He's well known in in the local Randonneurs community given his addiction to 400K and 600K rides, mostly on a fixie (aka fixed gear bike). He knows a lot of the guys here today and is proudly telling everyone that this is my first Rando ride and first 200K. Today he is using a geared bike, which I didn't even know he owned one! Ken's "lazy" mode is riding a geared bike for 200K apparently. He puts a piece of bright pink tape on my top tube with the mile that each checkpoint is at and what type of checkpoint it is. We have cards that list the checkpoints and what we need for them (e.g. answer a question about something there, take a photo from there, get a receipt from an establishment, ATM, etc. there). These are used to verify that we were there and then will be ratified later that we did indeed complete the ride. The ride organizers reserve the right to also have unannounced checkpoints along the route also. I was mostly nervous about this works, but knew that Ken would show me the way. 🙂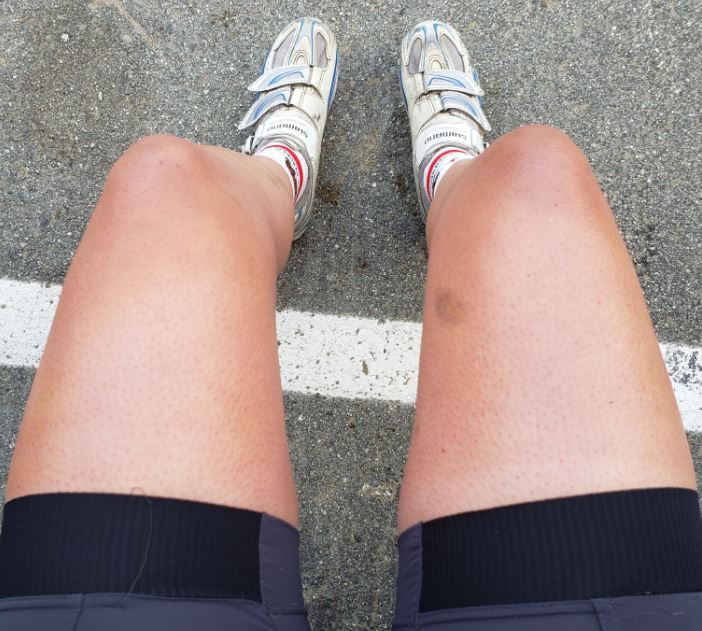 These poor bastards have no idea what's in store for them today!
There are more people for this ride (about 25) than I thought there would be and one in particular who looked kind of familiar. Turns out the guy is Tom Hughes, who I used to work with at Coupons.com until I was laid off in 2012. This is the first time I'd ever run into anyone from there! Neither of us were cycling when I was there nor did we work directly with each other (I don't recall) so I didn't really know him back then.
After a quick ride briefing at 7 AM, we all roll out towards the Golden Gate Bridge via the bike path up Crissy Field Avenue, which I'd never actually been on. My mind is still wondering WTF am I doing here and I assume everyone in this group is a faster and stronger cyclist than me. I'm expecting that I'll be doing most, if not all, of this ride by myself or with Ken. Ken promised to not leave me behind I know that he won't get too far ahead of me, if he does at all. I thought that this ride would be unlike the organized rides where even with the number of riders, we'd be stretched out all over the route. There is a generous time limit though of 13.5 hours that I'm not worried at all about.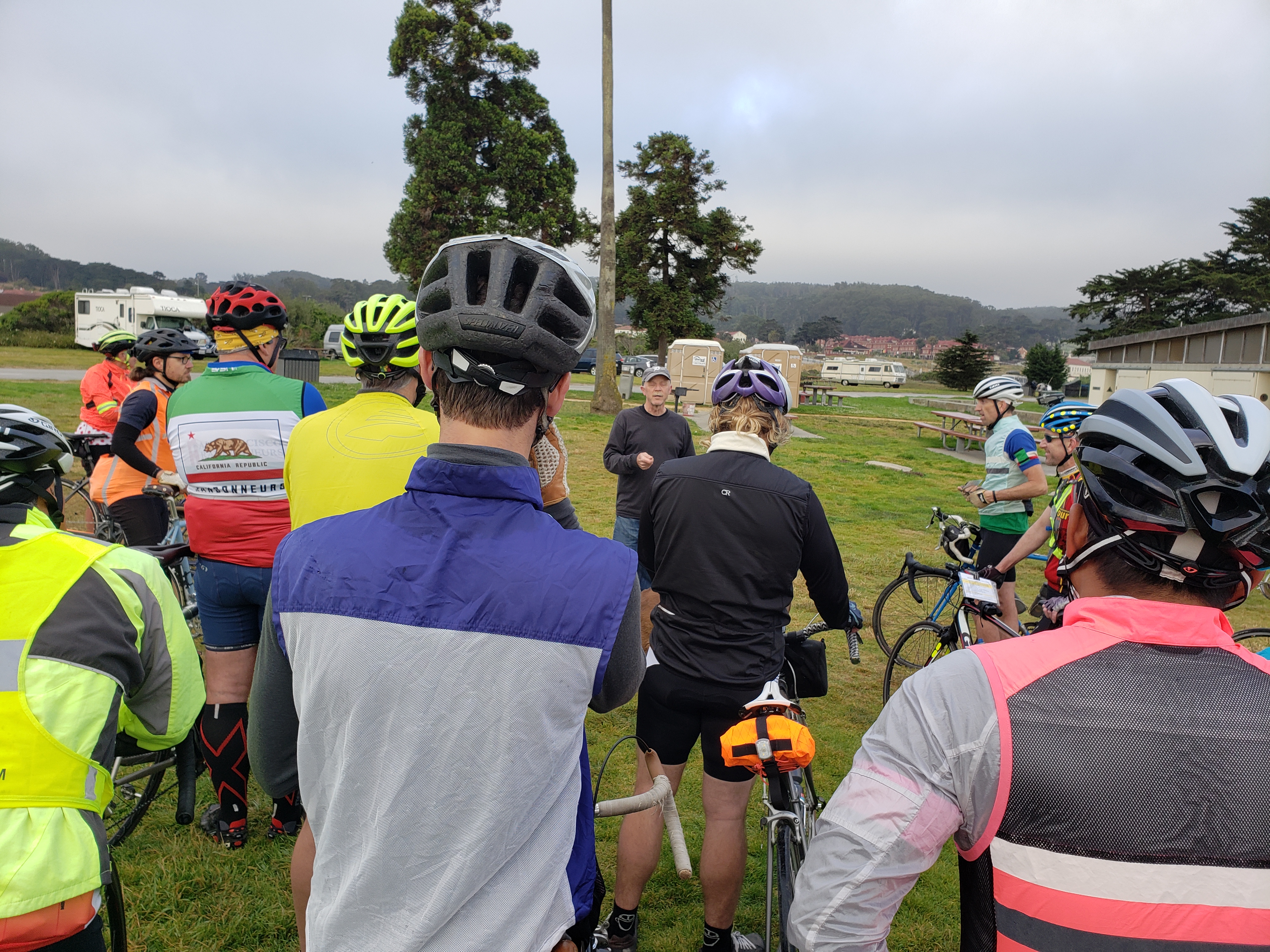 Rob Hawk gives a quick briefing before the ride
We hit the first checkpoint at the end of Bunker Road, which I'm surprised to see most of the other riders there. There's some confusion on where the sign is that the checkpoint is asking about (something like "Where are dogs not allowed according to the sign next to the last set of benches before the gate?" Answer: The lagoon.). Some finally find the sign that is at the second to last set of benches before the gate. Ken and I decide that we can write the answer down later and continue on. We zip our way up and around San Rafael by Becca's mom's house and along the Whole Foods that I stop at when going to either of their houses. We head out to do a loop around China Camp and the second checkpoint at a campsite (question was "How many picnic benches are there?"). I'm sure everyone else there was wondering why the hell a bunch of cyclists with little yellow cards are counting the benches! 13. Ken and I decide we can remember that also and press on. We buzz past Becca's area of San Rafael and onto Lucas Valley Road to start making our way to the coast.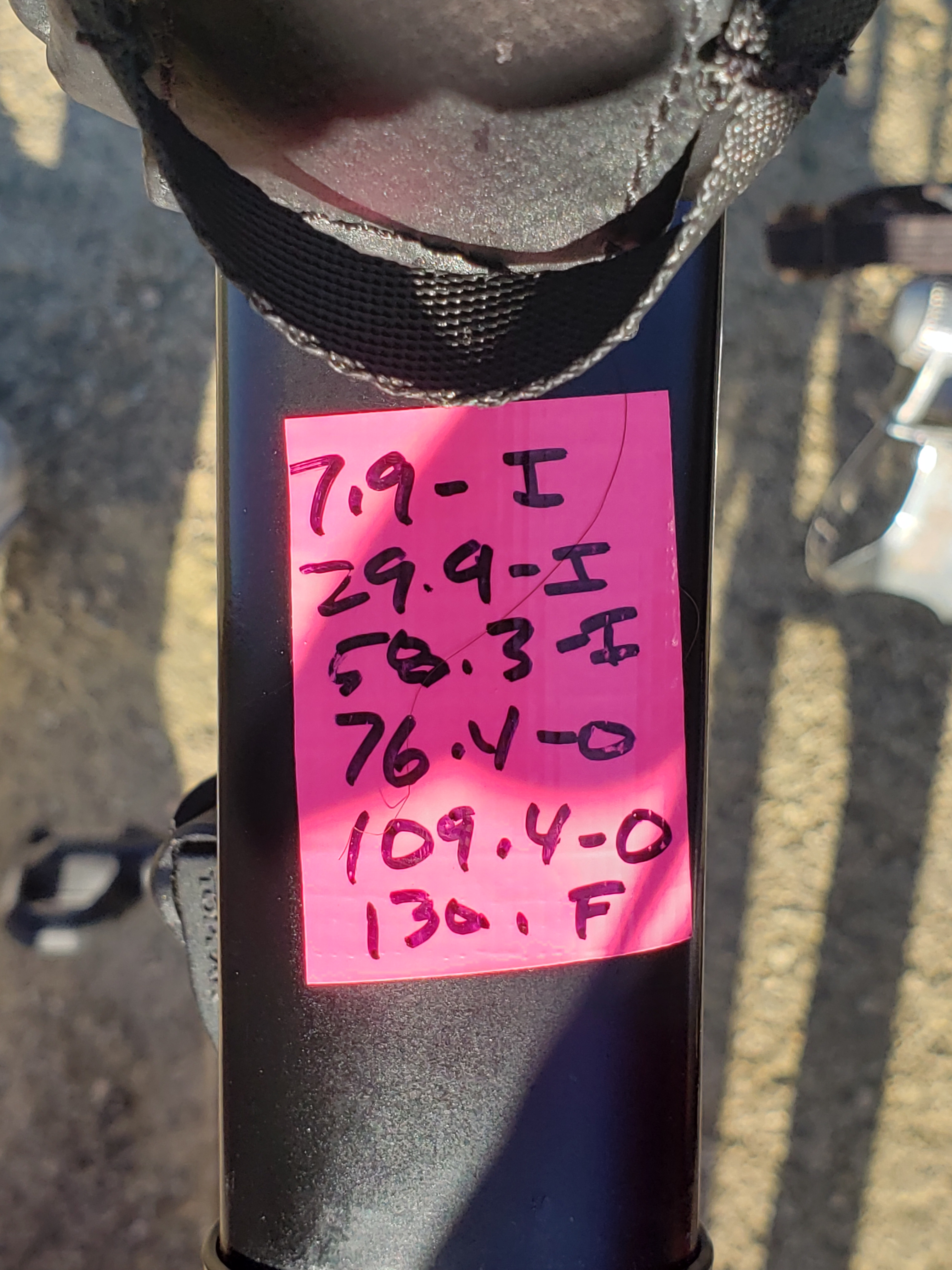 Ken's method of keeping track of where the checkpoints are on a ride.
My stomach is still bothering me a bit and I contemplate on bailing. I reason though that I'm 45 miles into this ride and looking at about 45 miles back, which would be a total of 90 miles. It'd be foolish to quit now as then I'd end up being just 40 miles short of finishing my first Rando ride and first double metric. Did I really just say "just 40 miles short .."? I joke about how it feels like I was just on these roads a week ago, which is exactly where I was with Dan on part of our Sonoma backroads century a mere 8 days ago. I'm with Tom and a woman named Sandra right now though. Ken's pulled ahead so they're joking that he's not doing a very good job of liaison on this ride. I know he's up there waiting for me somewhere though. I tell Sandra a bit about my doubts and she says "This ride is tough, but you're stronger." (a new favorite quote!). She's telling me about Marshall Wall and asking if I'd ever done it before. I say yes, and actually just last week. This'll be my 4th time climbing up it.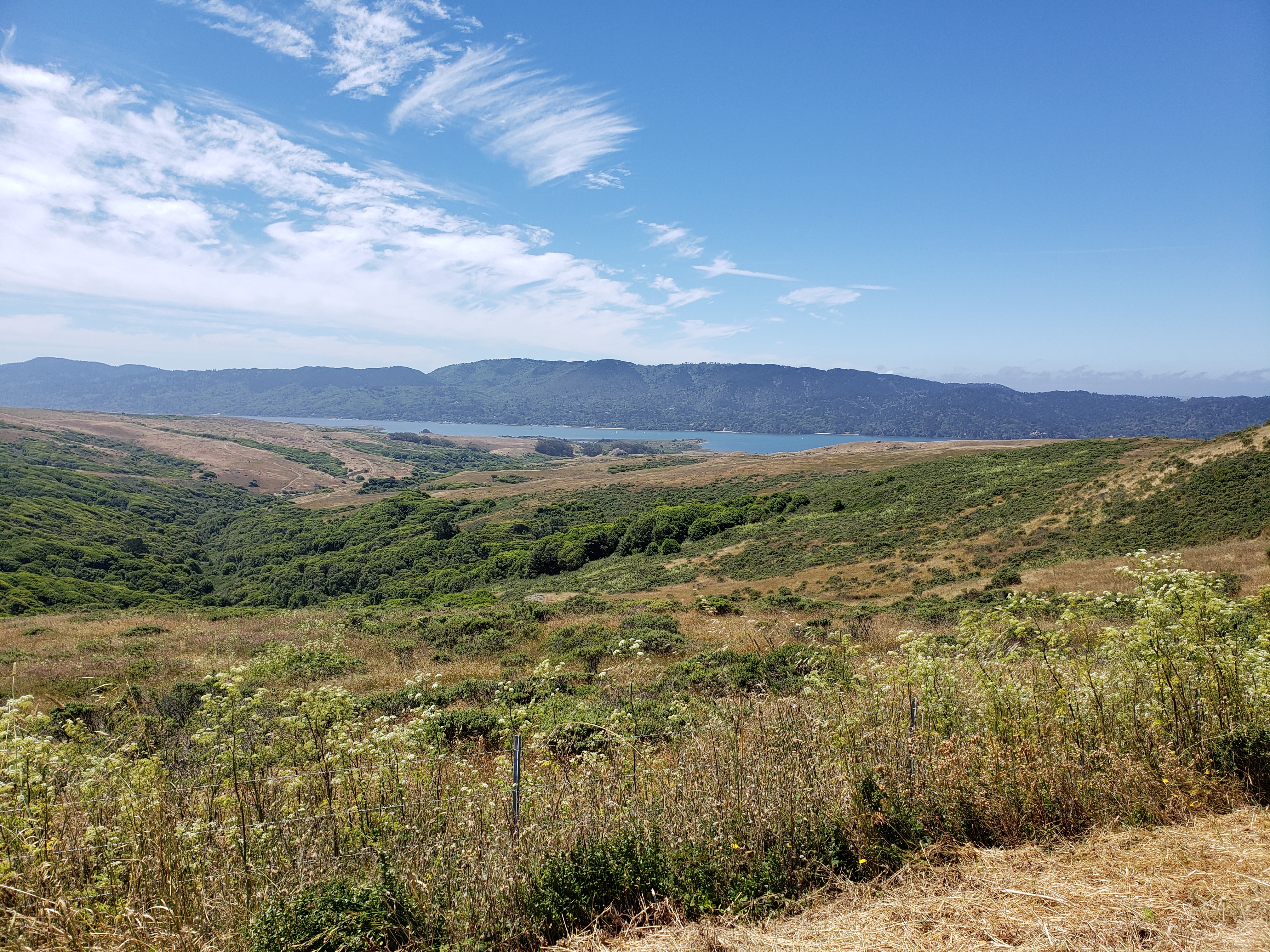 View from the top of Marshall Wall – a rare time of actually stopping to "enjoy the view"
Sure enough, Ken is waiting for me at the end of Nicasio Valley Road. I like riding with faster people like Ken and my friend Dan because even if they pull ahead, they know to be ready to roll again when they see me since I'm not going to need to stop. They're good company too. 🙂 We do stop at the intersection of Pt Reyes – Petaluma Road and Marshall – Petaluma Road for the third checkpoint ("At the first mileage marker on Marshall – Petaluma Road after the turn, what's the distance in KM?") Ken and I finally take out our cards to write this number down along with the answer to the other 2 questions. We take off towards Marshall Wall and the coast. The only issue I have is we're downwind from a guy who has leaving a distinct Pepe Le Pew sweat stench in his wake. I don't blame Ken for zipping past this guy and I would too if my legs could handle it. Instead I go a little bit slower to get some distance between Pepe and me. Ken's waiting for me a top and I tell him to hold on as I want to take a photo. I'd told him before that I'd planned on documenting every single mile of my first double metric. 😛 I knew that if I got to the top of Marshall Wall that I'd be okay the rest of the ride. After this we've got some short climbs and rollers all the way to Tomales and then I know the route back too isn't too bad (minus Panoramic Highway). Also, at this point it's really too late to quit since I'm too far into the ride.
I'm really glad that I did the Sonoma backroads with Dan the week before as all of these roads are still fresh in my memory. Ken and I roll on to Tomales. We see some guys on their way back from Tomales already which either they're very fast riders or they skipped lunch. Tomales is the "open" checkpoint at mile 76, which means to just get a receipt from anywhere there. Ken wants to stop to eat at the Tomales Deli & Cafe, which I actually join him in ordering something. Neither of us usually eat much on rides, but today is a rare occurrence. I was ordering some veggie sandwich when the guy behind the counter says that they have a vegan burger (with cheese..???) that I could/should order instead. Sold! Minus the cheese. This is the longest I've spent at a lunch stop in who knows how long, but it's worth the wait as this burger is delicious. Then again, 76 miles into a ride on an empty stomach and it could have really tasted like sawdust on a normal day for all I know. The Tomales Bakery is generous enough to have a water pitcher outside for cyclists to refill their water bottles. One of Ken's many friends on this ride pulls up confused as he'd passed us miles ago yet somehow we got to Tomales first without him ever seeing us pass him. Wormhole? 😀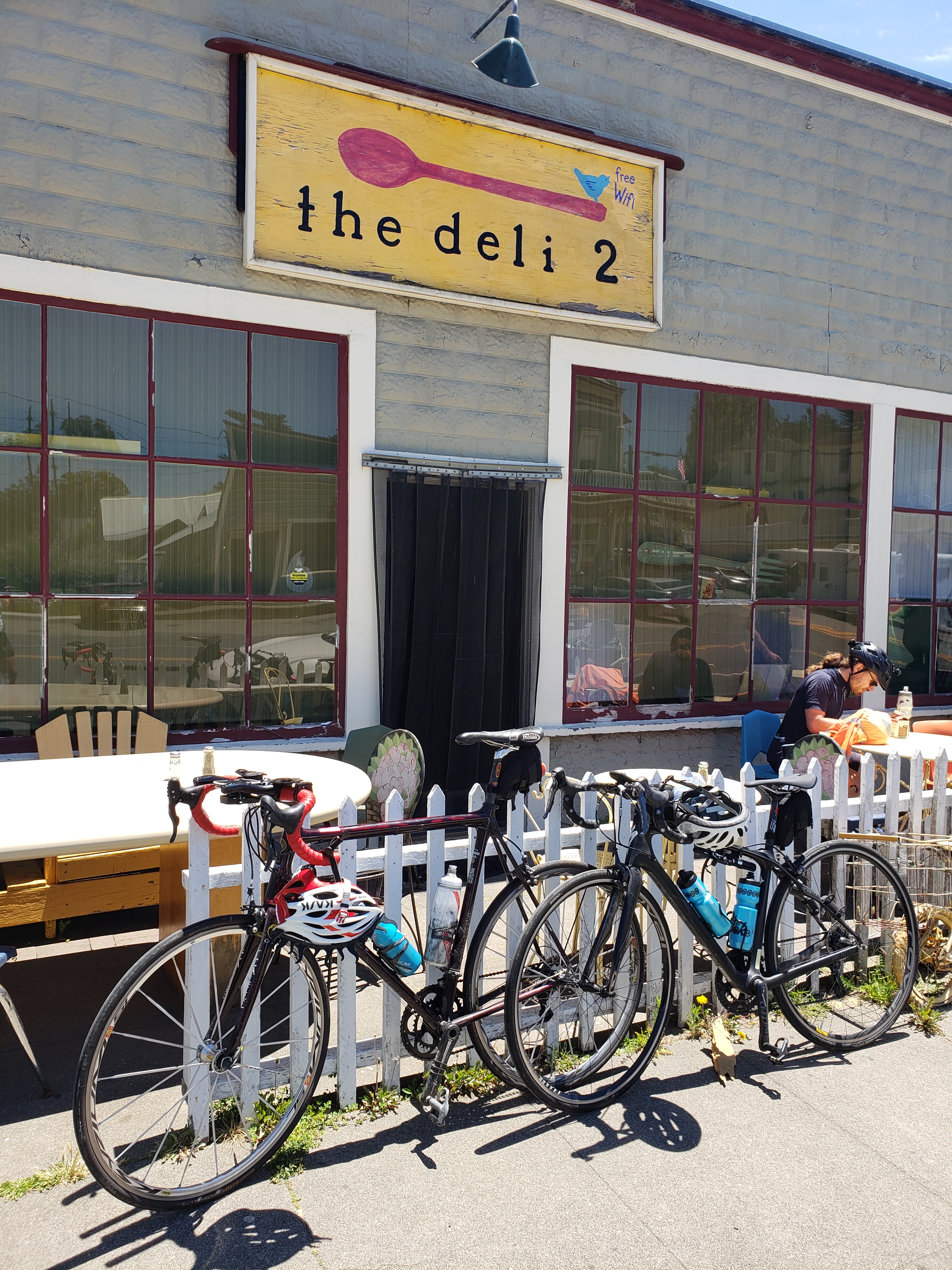 Lunch! So good that I'd come back just for the vegan burger here.
Ken and I depart Tomales with our lunch receipts and make our way to Stinson Beach. Along the way we meet a guy who is riding to SF from Portland. Ken says we're heading to San Francisco too and the guy seems a little confused when we say that we started in San Francisco. 🙂 We make a brief stop in Point Reyes (almost home!) as one of Ken's water bottles successfully escaped somewhere after we left Tomales. Point Reyes reminds me of the time that Liz and I did the SF-Point Reyes-SF loop on a weekday where we were the only ones on several of the roads, had lunch in Pt Reyes, and then got the surprise "road closed" in Stinson Beach that resulted in us unexpectantly going up and over via Panoramic Highway to get back. At least this time I knew that I'd be doing Panoramic Highway!
I hear a woman's voice behind me while cruising down Highway 1 through Olema. Danielle is doing her third double metric and it's always nice to have someone to chat with, even if you can't see them. Ken, Danielle, and I form a little pod which helps as I get very bored on the flat section of road around Bolinas Lagoon. We're at our last checkpoint in Stinson Beach and most of us to go the Stinson Beach Market. I'm not really needing anything so I ask Ken to grab me a banana (my standard classic go-to for any ride…see "2017 Tour de Cure Sonoma Century's diet of 7 bananas and nothing else for food"). I'm definitely sure that this cashier is confused as all hell that about 25 cyclists just came into his store asking for receipts! A couple of other riders have a gallon water bottle they bought and offer to share their water with us. Damn this group is hella cool! I finally see what Danielle looks like too now that we're off of our bikes. All she'd seen of me for the last several miles is the back of my kit and a long braid too! I already like her a lot as she's super positive without being cheesy. I realize that we're at 109 miles so I've officially gone my furthest distance ever on a bike and every mile from here to the finish will be another mile further than ever.
Banana peel safely disposed of and Ken urges me to shove off. I know what's coming up so start whining a little. Another rider Phil has come along who is covered completely in black! I ask him while we're climbing on how he cannot be overheating. He's wearing arm and leg warmers though still for sun protection and does admit that he's (finally?) getting pretty hot. Like many people, he's a faster climber than me and I lose him too on this climb. Cars and motorcycles are passing us and I wonder if they think we're nuts to be climbing up this road. They don't even realize that we're 110 miles into a ride! I do stop a couple of times on this climb to drink as I'm so out of breath that I want to make sure I don't choke while drinking. I see a few spots that I remember waiting for Liz on this road when we went up it two years ago. My Suunto watch's battery dies, but at least I've got a backup of my Garmin going also. Yes, I was wearing two heartrate monitors on this ride.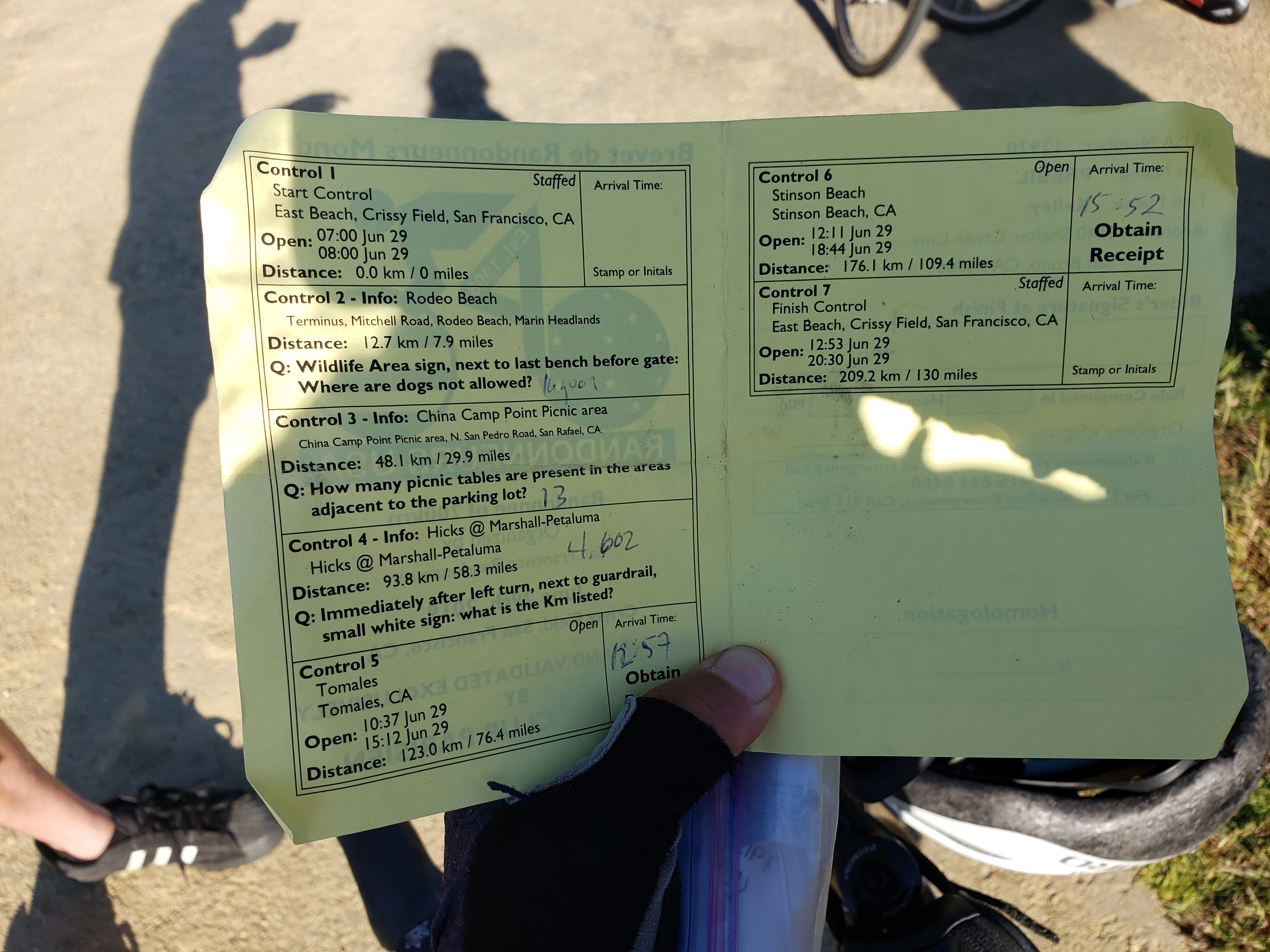 Faultline 200K Brevet card. Each one already has your name printed on it and you turn it in at the end of the ride.
I get to the intersection of Panoramic Highway and Pantoll Road (aka the top of this climb). I tell Danielle and Ken that I'm going to refill my water bottle in the campground there. I probably won't need two full ones for the rest of the ride, but you never know. Phil's at the water fountains trying to figure out where to go from there to get back to Crissy Field. I tell him to just join our pod as that'll be easier.
We fly down Panoramic Highway the 4 Corners. Once we regroup, our foursome head down Sequoia Valley Road to Mill Valley. Home free! We get onto the bike path where I bark at a group riding 5 ACROSS that we're coming up on their left. They respond quickly and our foursome sail past them. I'm actually feeling pretty good and the legs aren't showing any signs of giving up anytime soon. I tell myself (just in case) that the climb to the bridge is one that I usually do at least once a week so it's nothing to be worried about. As usual, the climb isn't a problem at all although I have to remind myself to get on the West side (only open on weekends and cyclists only) since I'm used to the East side (cyclist/pedestrian mix on weekdays). I can't remember the last time I've been on the West side let alone having to deal with Blazing Saddle nitwits. I do my usual prayer of not running into anyone who is going to make me break my personal 40+ years of never setting foot on the Gate record. Success! We had to maneuver around a few groups, but I was able to reach the other side again seamlessly. 🙂 My Garmin gives a low battery warning, but I know we're less than 10 minutes from the finish so whatever…I'm not plugging in my battery pack right now.

My ride stats from my first 200K. Not too shabby. 🙂
Ken and Phil are a little bit up ahead. Danielle thought we were dropping down the bike path to get back to Crissy Field, but the route says to go around and down McDowell Avenue. She follows me around and we coast into Crissy Field and the finish. I hand my brevet card and receipts in and grab some veggie soup with Ken, Phil, Danielle, and the others who are there. Total moving time of 9 hours 49 minutes with 9000′ of climbing (total time 11 hours 13 minutes). First metric century and first Rando ride done! 🙂 🙂 🙂
I'm really surprised that my legs, back, and neck weren't hurting at all at the end of this ride! I could have kept going if I had to actually. I wasn't sure if I'd hit a wall between 100 and 130 miles where I wouldn't be able to go anymore. This ride had 9000′ of climbing though so it definitely wasn't an easy 200K. I'm glad that I had done three centuries recently, even if I wasn't really training for this ride or had it in mind when I was doing those centuries. Like my Catalina and Anacapa swims, I didn't know if I could ride this far. I was willing to give it a try though. Now that I know I can do 200K though, I'm wanting to try a 300K (and later a 400K! Eek!). Next double metric on my schedule is Marin Century's 200K route in August, which I'm also doing with Ken. Mostly though I'm looking forward to my scheduled Pajama Day tomorrow. I loved my first Rando ride and looking forward to joining these guys again!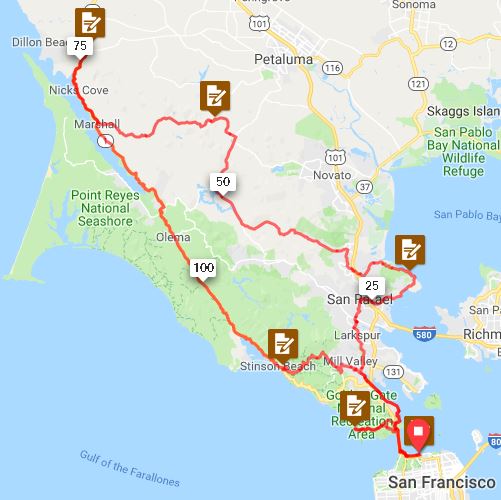 San Francisco Radonneurs Faultline 200K Route