Rando rides out of Davis are some of the most mentally challenging rides. Not physically hard since the area is relatively flat, but that also means you're going in straight lines FOREVER sometimes. Growing up and living in the Bay Area, I'm used to being around lots of trees, hills, and water/bay views. Davis is a lot of fields as far as the eye can see BUT I had a different mission on this ride that superseded my preference to ride among the trees. My friend Brian had gone through a bit of a rough 2021 medically (not COVID related) which had left him slower than his usual riding speed and some excess weight that didn't help with his self-esteem. No-drop club rides were leaving him in the dust which upset me when I heard about it happening multiple times. I've been dropped before on a "no-drop" Rapha Club ride thanks to one red light which is the last time I ever rode with them. Actually, that ride was a great one since I ended up meeting my friend Brenda, who was stuck at the light with me on the same ride, and she introduced me to her NorCal Velo group out of Santa Rosa. I'm still friends with a bunch of those guys and ride (and drink and eat) with them when I can. Anyway, I'd told Brian to not worry about the weight since a bunch of poison was pumped inside of him to save his life so give his body time to heal from it. As for his riding speed….hey he's on a bike and I'm never going to drop him on a ride. So a 200k on 31 January 2021 with a measly 1500′ of climbing? Sure, just to keep Brian company so he wasn't doing the ride himself. And promises of homemade ginger cookies may have been made too. Luckily (for him), my prior commitment for RIB piloting for the South End Rowing Club's NYD Alcatraz fell through therefore I wasn't busy with that swim's test swim on the 31st.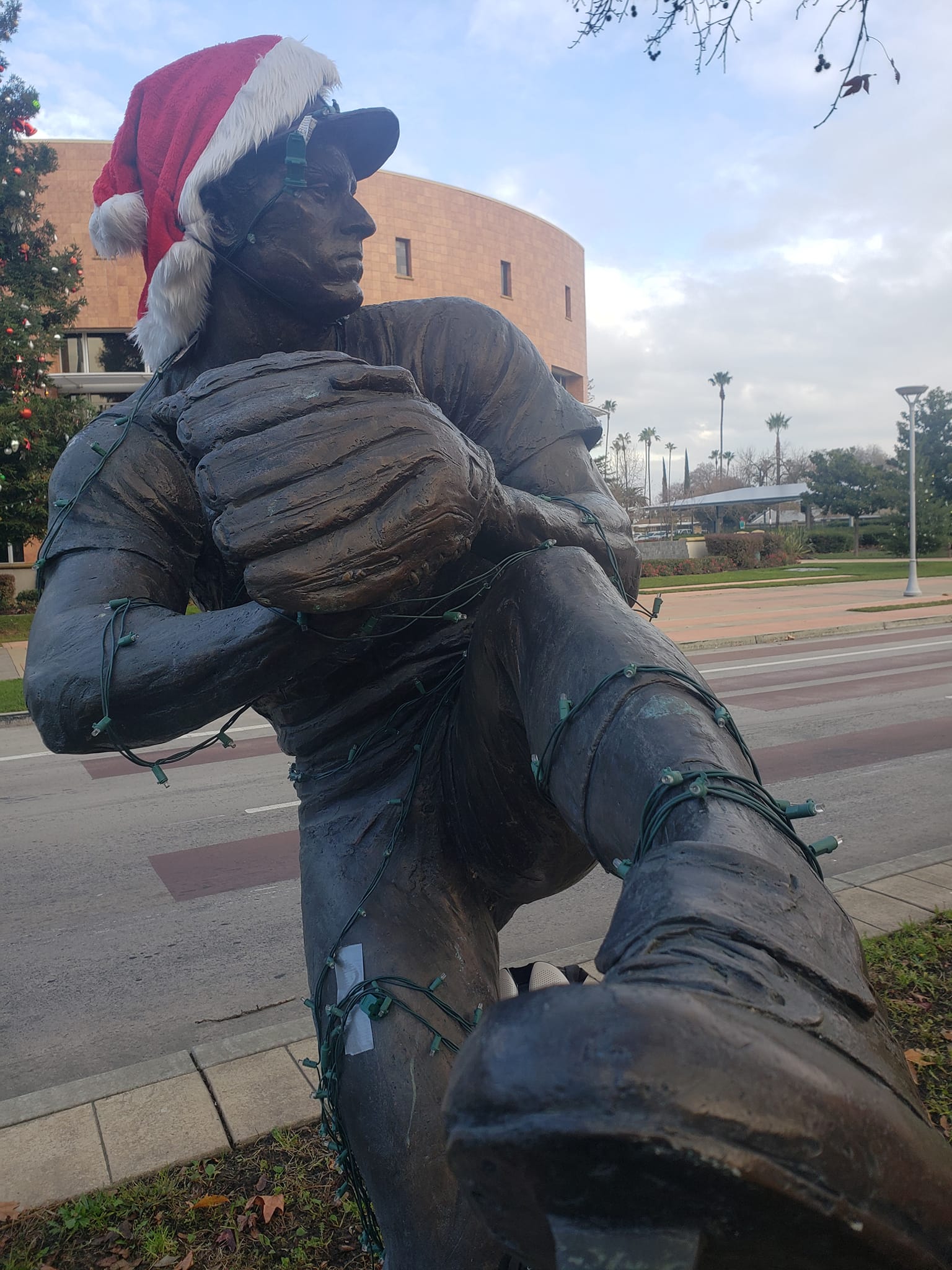 Control #2 of the bronze baseball game in the middle of West Capitol Avenue in West Sacto.
Davis rides tend to start at The Marketplace. Easy parking, easy to tell where the other randos are, Dos Coyotes is right there and open when you finish a 200k there right at dinner time. I park right next to Brian which apparently raises some eyebrows as everyone else parked with some distance between cars. I'm spending all day with Brian anyway so what difference does it make if we're parked next to each other? Plus there are homemade ginger cookies in his car that I need to collect! This morning though it sucked as it was about 37F outside ("real feel" of 33F!). We go through a quick briefing that Deb Banks, the Davis RBA, is unusually absent for. Some people are doing the 100k and the rest of us are doing the 200k. Since it's New Year's Eve and cold, there aren't that many of us. We scamper off towards Sacramento on the usual route parallel to 80. Unlike Rob, the SF RBA, who only makes us do one proof of passage (brevet card, Strava recording, or timestamp photos at Controls), Deb makes us do TWO so Brian and I are going to do Strava and timestamp photos. Luckily some of the controls are well known like the baseball players in the center median on West Capitol Avenue.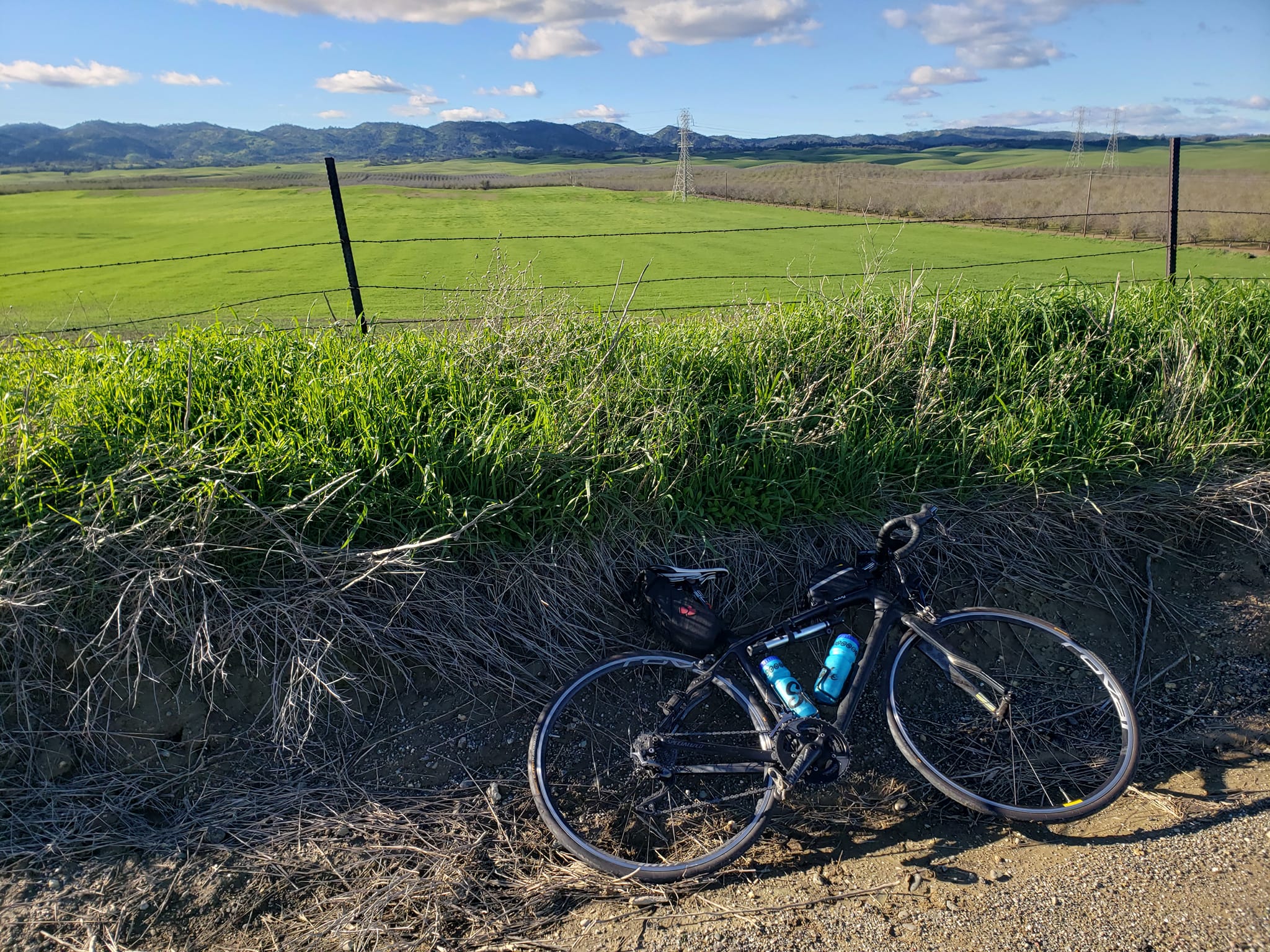 Sun! And the only time I was remotely warm on this ride.
Brian and I are taking turns on who gets to break the headwind. One scary moment on a county road (102?) where I accidentally clip Brian's rear tire. I'm still not sure how I didn't crash, but it definitely got my heart racing as I struggled to keep my bike upright! I'm not even sure if he knew that happened. We pass through Knight's Landing which is one of the many small towns here that you would never have heard of if you didn't drive or ride through it ever. We pick up a few other Randos along the way for some chit chatting along rather mundane roads. There aren't really any food stops on this route before Winters, which is so close to the end at that point that it's not worth stopping there for an entire meal. I think we're on Yolo County Road when Brian asks me to tell him a story to keep him entertained on this ride. I start telling him the story about this one time I gave up my NYE day to come up to Davis and ride in the f'ing cold on a very flat route for some friend against my better judgment. We turn from Yolo County Road onto County Road 99W as I see Brian cut every possible inch of that corner off trying to catch up to us. We're almost at Dunnigan now. I'm having some knee pain so I want to stop at Dunnigan to raise my saddle up to try to take some pressure off of it. Brian and I stop at the Dunnigan city limit sign while the other guys head into Dunnigan. We meet up with them again as they find the first convenient store there to get some food and/or water. We're at about the halfway point and I'm still wearing all my layers since it's still cold out. I haven't drank any of my water yet (I hardly drink anything when it's cold) and eat an 88 Acres dark chocolate seed bar.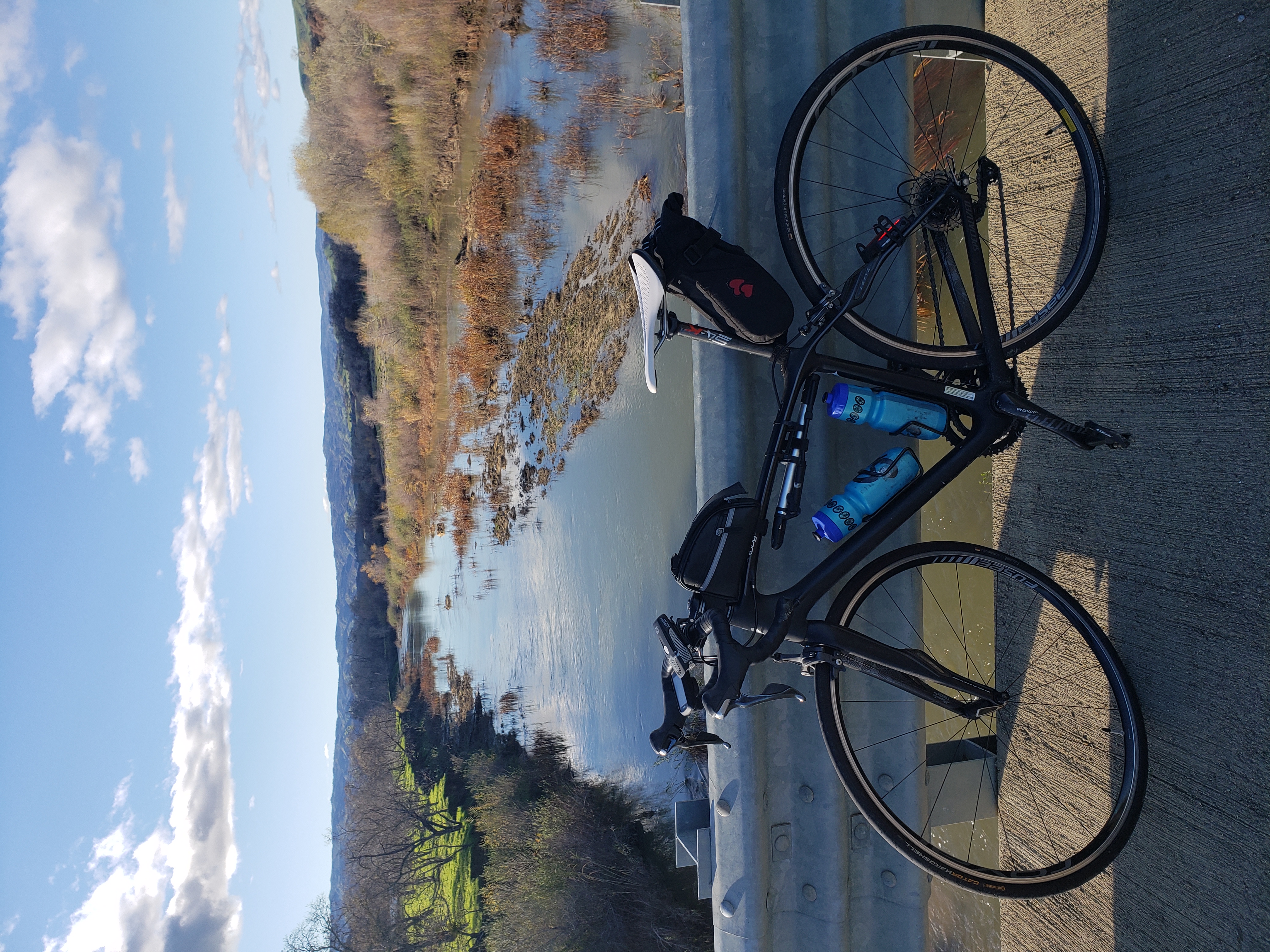 Small bridge just north of Winters.
We all take off again as the other guys notice that the only other food options in Dunnigan was the Jack in the Box and the Chevron's convenience store. Yup, not much out here. The other guys start to pull away as we make our way to Winters. I'm still trying to keep Brian within eyesight though or at least not get too far ahead of him. I finally start getting warm enough that I want to take off my jacket and vest. This is the longest I've ever worn 3 layers while riding which should say how cold I was! The jacket was my second heaviest weight cycling jacket too. I could have used my heaviest one actually today. Brian and I are meandering our way to Winters when suddenly one of the guys pops up behind us as I had stopped to take a photo of one of the bridges and waterways north of Winters. We learn that his name is Pierre and he's a SF Rando. Pierre and Brian are busy talking in French and whatever else so I'm free to go a little bit faster and a little farther ahead secure that Brian has good company with him. And I still stop a lot for them to catch up. We've had a lot of rain recently so the ground is fairly wet. I try to gingerly find a decent place for a quick bathroom break which is muddy enough that I get all sorts of dirt and small rocks in my cleats. I have some trouble staying clipped in, but no time to deal with this now!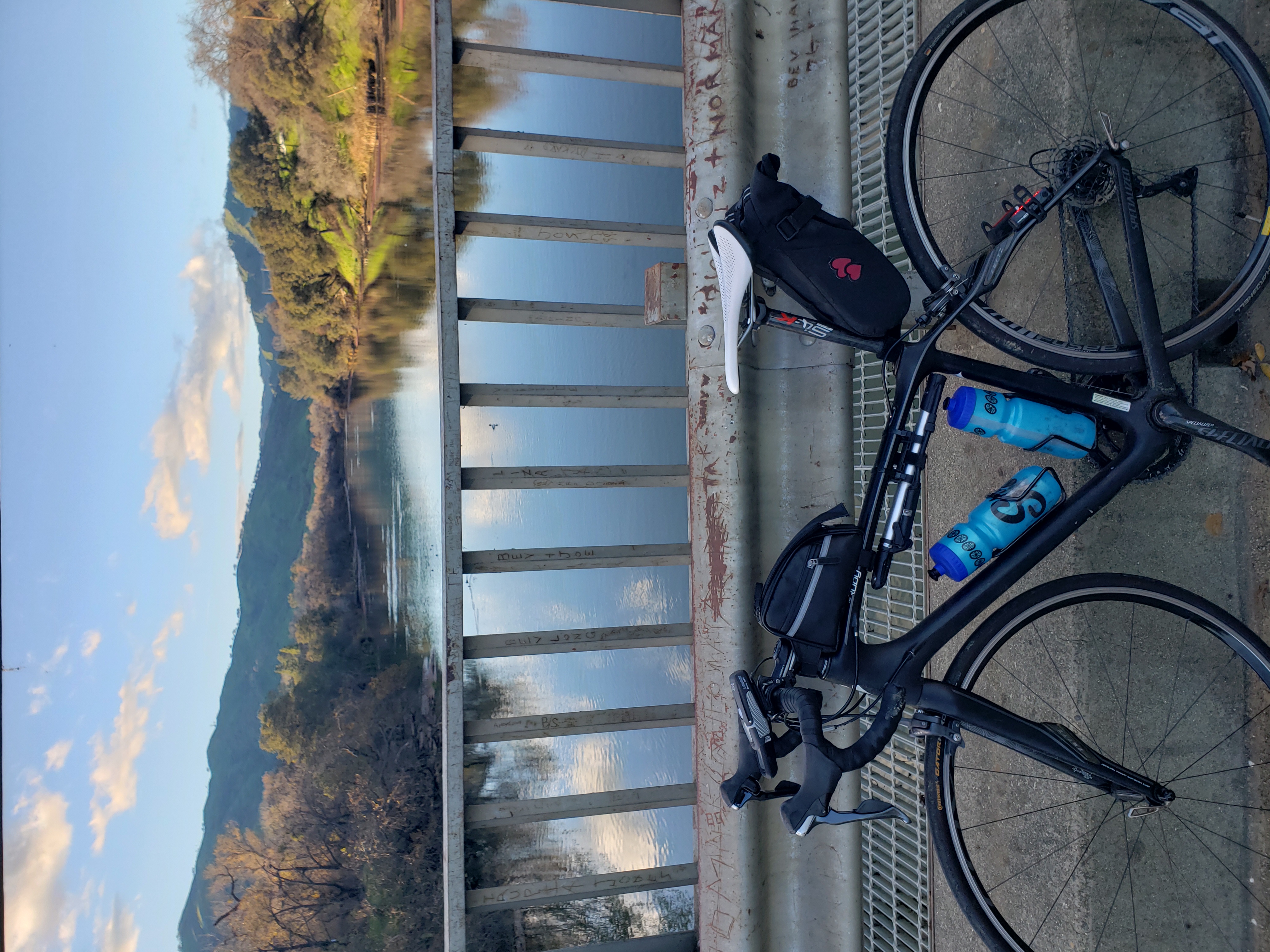 Crossing Lake Solano.
We roll into and through Winters. We have some confusion on the last control location for Lake Solano as the mileage for the control indicates the bridge over the lake whereas there's also the area actually labeled the lake a bit farther up ahead after you turn onto Putah Creek Road. I take photos of both so have my bases covered. Pierre continues on solo as I take the photo from Putah Creek Road and think this is where I put my jacket back on. I remember from here that it's just a long flat relatively straight slog back to Davis. We're not that far away, but it's getting dark so there's even less to see than in the daytime. Brian and I can see Pierre's tail light off in the distance as we keep cranking away to get back to Davis. I'm also already thinking about dinner since I didn't even really get any lunch. I did manage to finally start my second water bottle though! We watch the setting sun's red glow on all the orchard trees as they slowly fade into complete darkness. We cross over 80 and shortly make the turn north to meander into Davis. This is always the longest part of the rides here since you're so close, yet so far! By the time we get back to the Marketplace, it's like a mirage. Brian asks if I'm going to go the car or Dos Coyotes first. As hungry as I am, I'm throwing my bike in the car and putting on some real clothes first! We quickly do that and then race towards the restaurant. Other randos and our DORC (Day of Ride Contact) are still there so we're able to enjoy our first real meal in several hours with great camadarie, food, and drink! Coldest 200k I've ever done!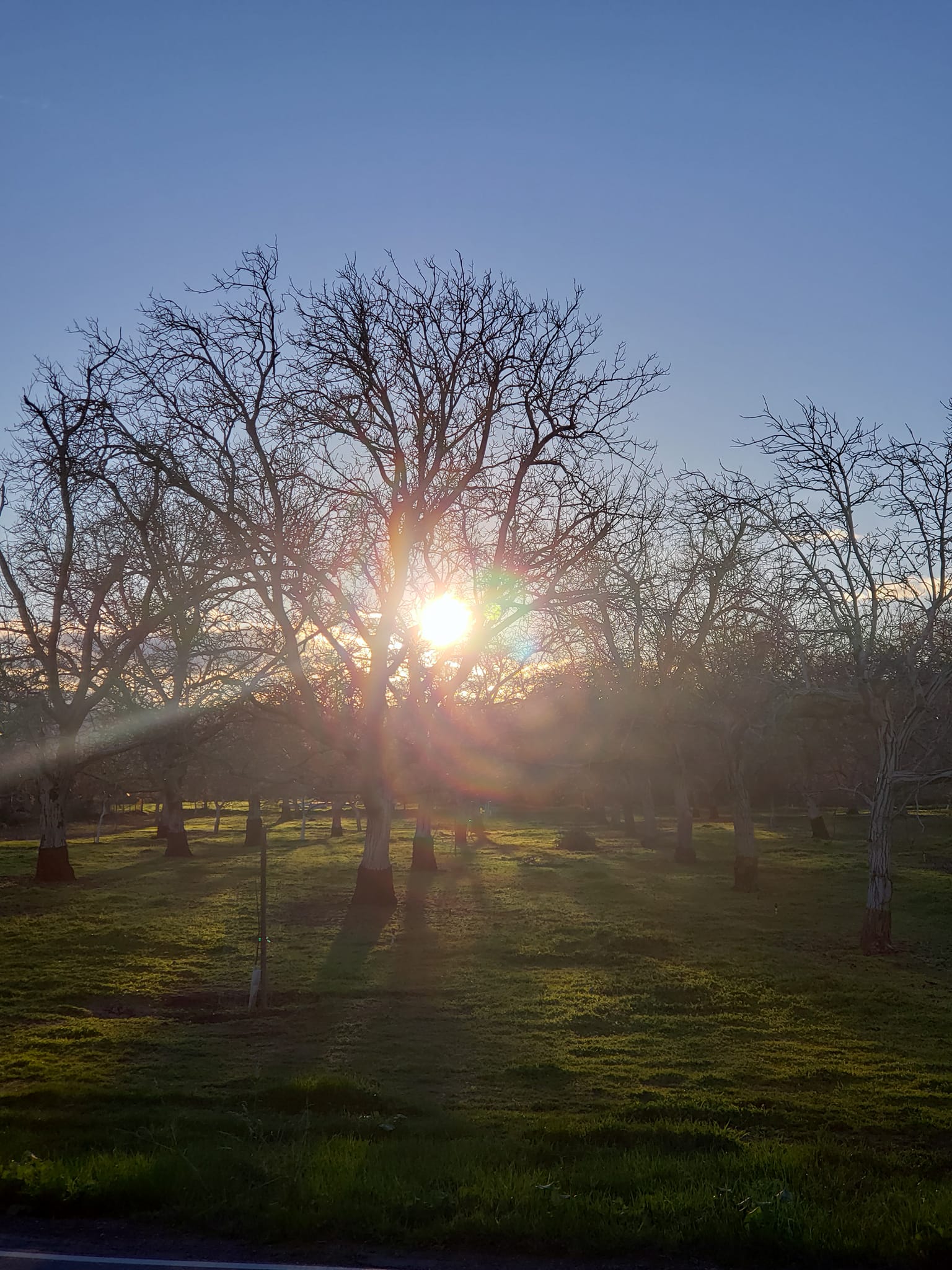 Sun starting to set on the way back to Davis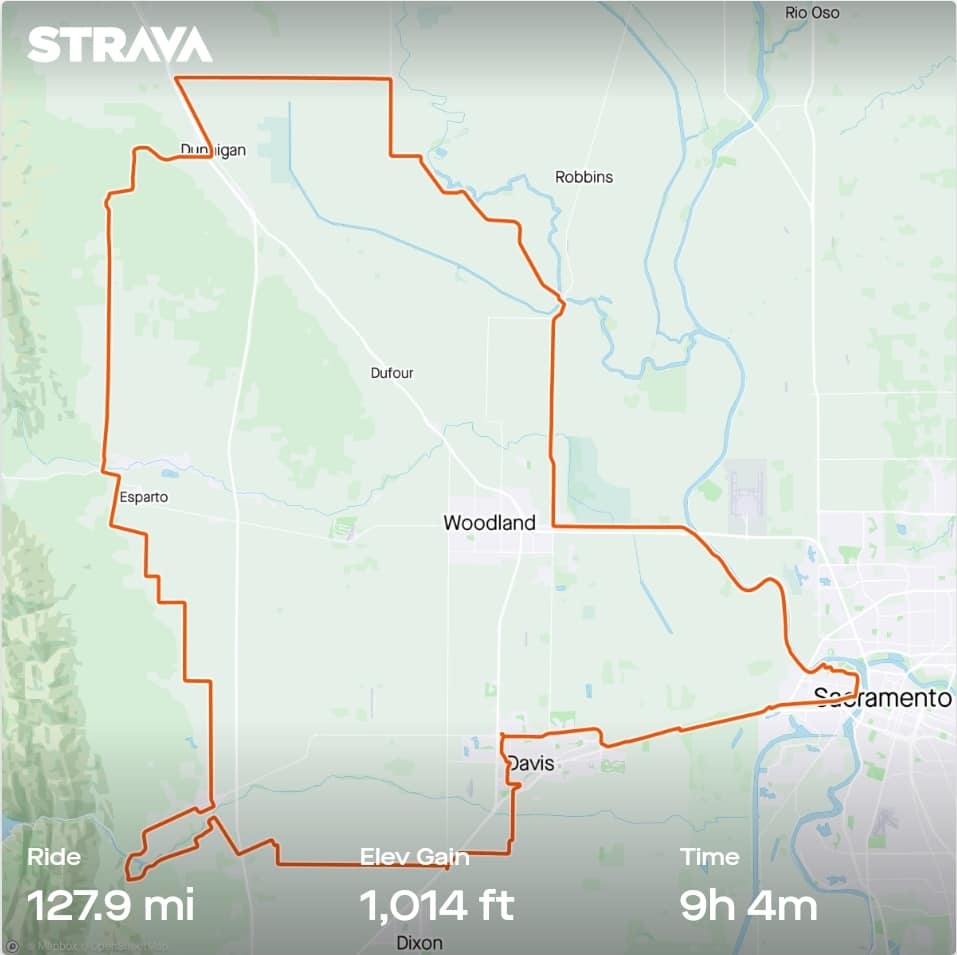 2021 Davis Randonneurs' Last Chance 200k