Originally the 200k brevet on 29 January 2022 was supposed to be the SFR Pierce Point 200k, a route I hadn't done and wanted to do. However due to permit issues, Rob had to swap it on the schedule with the SFR Dillon Beach 200k that was originally scheduled for March. I realized the change when I went to register for the January Pierce Point 200k and saw "Dillon Beach 200k" on the registration form instead. I did this route last year as a permanent with Ken for our first SFR 200k last year, but I'd already arranged with Brian to ride the SFR 200k on the 29th so Dillon Beach it is.
Brian and I tend to have a tiny struggle with start times since SFR does start time windows. He lives in the South Bay so meeting me at the start window (aka daybreak) isn't usually on his offering. I always ask for something like just 15 minutes earlier than he was planning on being there. Funny thing is that he usually ends up showing up at that time or earlier. Today he was carpooling with Sourav though so an extra complication on when he could actually get his butt in the car and start driving. However today he got there just before I did. There's an open spot next to him and he's got his driver door wide open. I roll my window down and yell "Don't you hate it when some a-hole leaves their car door open so you can't park?" He sticks his tongue out at me and closes his door. I check to make sure he's got plenty of room in his handlebar bag for transporting my cookies back from Tomales Bakery, which I've already voluntold him for.
We get ready, quickly check-in and head off to the Golden Gate Bridge. The air is a bit crisp and I'm glad that I've got my leg/arm warmers and jacket in addition to my kit. I'm still on my "No Brian Left Behind" mission so make sure I don't lose him on the familiar route from the bridge to Olema through the usual combination of SFD and backroads. The temperature drops along the Mill Valley bike path which is always expected. We get passed by some of the faster randos on Camino Alto who started later. Nothing too eventful along here and we really ride on auto-pilot through here as we've all done this part so many times and those backroads are basically a road cycling superhighway as we all take the same route through there to avoid SFD as much as possible. I'm just glad that this ride doesn't include the rather boring route through China Camp.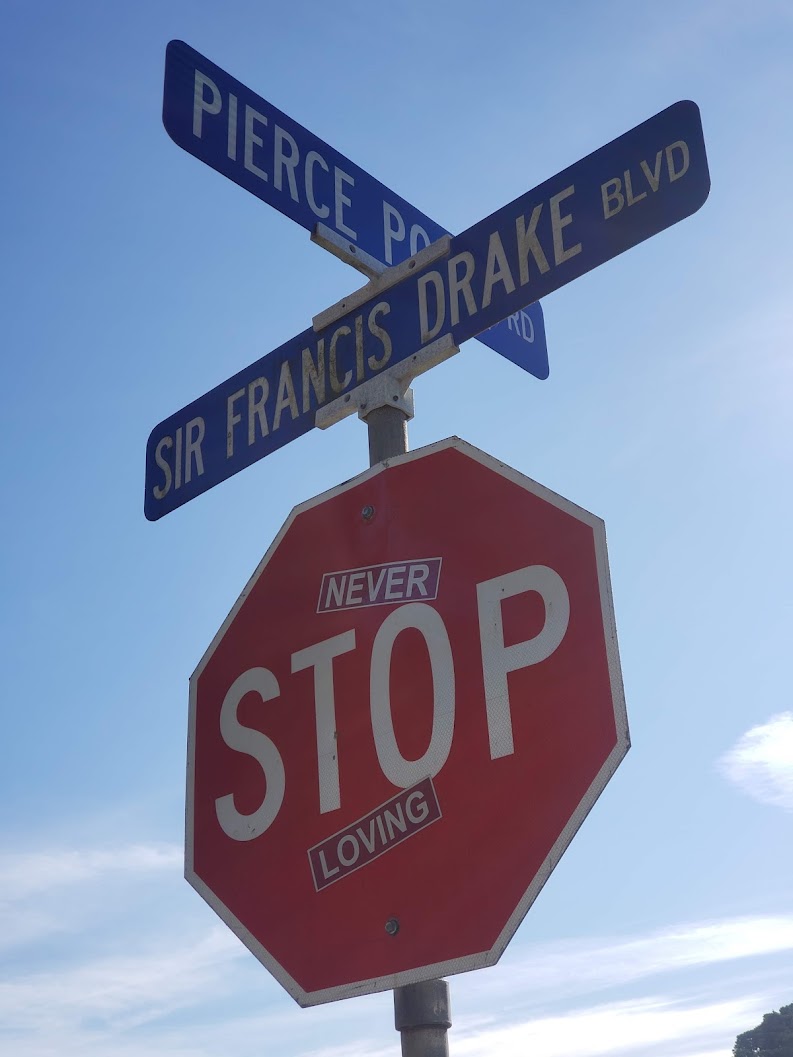 Turnaround point of Pierce Point and SFD after suffering through a 34F patch.
Drop down to Olema from Bolinas Ridge and head West to Inverness which now the temperature has REALLY dropped. Brian says that his Garmin reads 34F and I believe it! My hands are cold and my left thumb is hurting (a lovely permanent side effect from breaking it 3 years ago on okay, yeah, my bike of course). We cross paths with some of the faster guys who have already hit the turnaround point along SFD at Pierce Point and now on their way to Point Reyes and the rest of the route. I see Mike finally who I knew was on this ride, but didn't see him at the start. We greet each other as we pass like ships and never see each other the rest of the day. I had kind of forgotten exactly what this part of SFD is like except there's a climb on it somewhere for some distance that I forget. I just remember that the climb wasn't difficult. Sure enough we hit the climb and it's a good workout, but nothing that hard. I'm finally getting warm though towards the top and decide that it's time to take my jacket off. I pull over at the summit to disrobe when Brian just keeps on going. Hey! I hop back in the saddle and peddle to the turnaround. I take a photo of the Pierce Point / SFD street sign and chatting with Kitty a bit while actually having a small snack. I hear Brian a few feet away asking where I am which I'm just like "Really dude? Right in front of you." Okay there had been about dozen other randos there taking short breaks because we kinda like to socialize also.
Brian and I take off towards Point Reyes and my precious lunch and cookies waiting for me in Tomales. A bunch of randos have stopped in Point Reyes for lunch. Brian had been contemplating stopping at Bovine Bakery, but decides against it. I still regret the one delicious scone I got there once on a ride with my friend Baerbel as now I know what I'm missing with that heavenly bakery. I always pass through here wearing lycra though so just a quick look down motivates me enough to keep pedaling past it. Plus cookies await! We ride past the touristy oyster shucking spots when we see an enthusiastic motorcyclist in the road taking video of us as we ride by and yells "you guys are badasses!" I wonder if he knows who we are or what we're doing. It's kinda cool to have a 1 man cheering section regardless!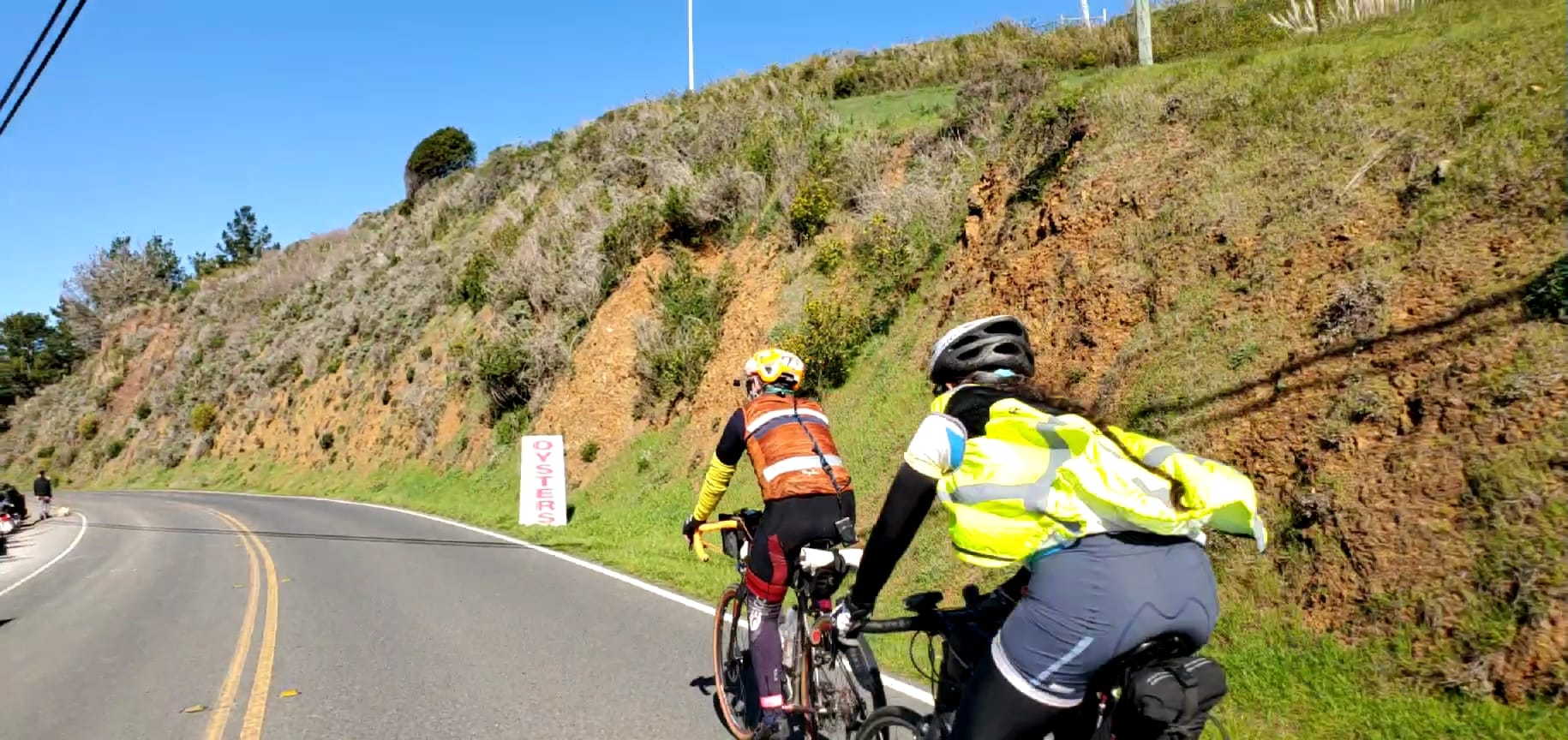 Tai capturing Brian and me riding by him in Tomales.
I've already told Brian and I want to stop for lunch in Tomales before the run out to Dillon Beach as it's getting close to lunchtime anyway. I head straight for Tomales Deli to put in my usual vegan order (there's only one vegan option and it's good so it's easy for me to order here) and then go claim my cookies. 3 oatmeal cranberry cookies from Tomales Bakery next door, one for now and 2 for tomorrow when I plan on holding down a couch most of the day. I strip my leg/arm warmers off and put on sunblock since it's getting rather pleasant weather and temperatures now. Hard to imagine that we were just in 34F only 1.5 hours ago! I eat half of a cookie and then remind Brian that the rest of that bag is going into his handlebar bag. I make some witty wisecrack to which Brian manically looks at me and asks if I know how many times he's wanted to just run me right off of the road. Sweet innocent quiet shy me? How could he! (BTW my swimming friend Gary keeps saying he wants Brian's contact info as he'll pay Brian big bucks to run me off the road and I maintain that no one is profiting off of my demise.) I finally get my sandwich as they had originally put the wrong bread on it and being a SF native I'm pretty much a "sourdough roll or nothing" type. Brian's giving me crap about how this is like 3 riding meals for me which is kinda true given how little I eat on rides (worse is running where I'm almost always in a fasted state for that). Luckily Brian is patient though and always waits for me to finish eating. Knowing him he had some pastry from the bakery that he inhaled before he even signed the receipt for it.
We putter off to Dillon Beach for the turnaround point and the namesake of the ride. I've never actually been on Dillon Beach and today is no exception. Actually in the North Bay I've only ever been on Stinson Beach because that was the start/end of the Double Dipsea last year (this year I'm bringing my swimsuit to do a proper swim there after that little 14 mile / 4400′ jog). We see some randos coming out of the small store there and chat with a couple of them before heading back to SF. Brian is friends with one of them (I forget her name, sorry!) as we take off so I go my normal pace as she and Brian are busy talking while riding. I'm feeling pretty good even with all this climbing out since I know we're on our way back and since this part is another out-and-back, I know what's coming up. I just focus on my leg muscles doing their job well of hauling the rest of me up all these hills.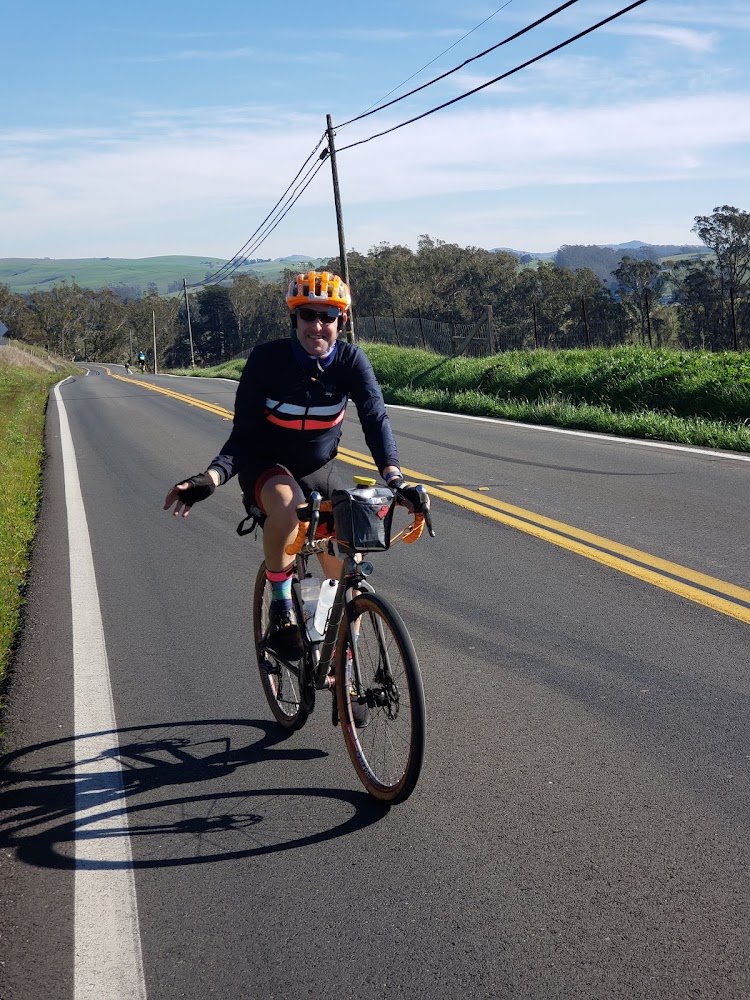 Brian finally getting to the top of one of the climbs heading towards Dillon Beach.
I get to Tomales and see a momentarily directionally confused new-ish Rando (ugh forgot his name too) who isn't sure of the route back. I tell him that it's the same way that we came and he should just ride with us then. Brian rejoins us and starts badgering us to get moving as we can talk while we ride. I finally give in and start peddling. We start heading South out of Tomales and finally cross paths with Linh and Lee Nguyen! Easy to spot them on their tandem and we've been wondering why we haven't seen them all day. I stop every so often so I don't lose Brian and I notice the other guy is lagging further and further behind. We unfortunately eventually lose our fellow rando. We hit the infamous spot of Nick's Cove where in 2020 I almost Wild E. Coyote's myself onto the back of a truck on the uphill after refusing to lose my momentum from the downhill part. Today there's a truck coming out from the hotel side of the road where I just go "OH F*** NO" and peddle faster to get past it before it blocks the entire road. Brian got trapped on the wrong side of it as I wait for him at the next mini summit.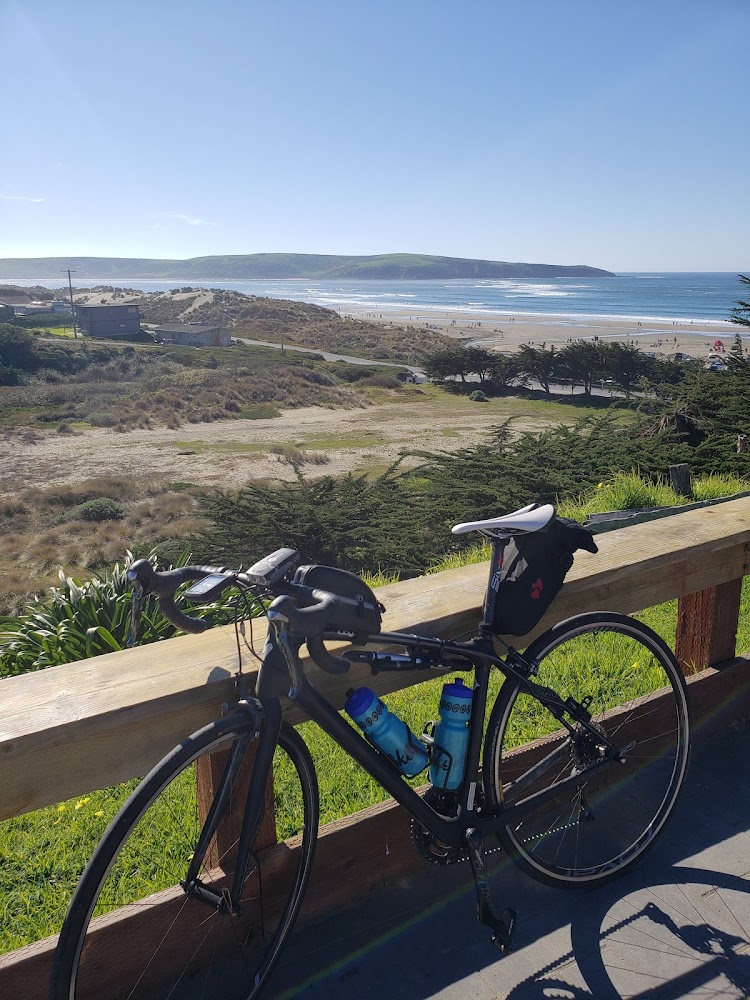 One of these days I really need to actually go to the actual beach here.
We meander through on our way back to Olema and the climb up and over Bolinas Ridge. Home stretch! I unfortunately do not make the speed signs on White Hill say "SLOW DOWN" again this time. We zip through on autopilot all the way back to the Golden Gate Bridge. It's dark now and we're supposed to take the East side according to the can't-see-wtf-that-is-in-the-dark sign for which side is open for cyclists at that time. I know the sign though and even though it says we're supposed to be on the East side, I still see cyclists on the West side. I prefer the East side anyway with any wind after the lame not-bike-friendly alterations on the West side. I'm surprised at how many pedestrians are on here still in the dark and have to dodge a few of them, especially those who don't know their right from their left when you yell out that you're passing on their left. *sigh*
I decide to take the bike path to get back to Crissy Field instead of the road, which can be a bit bumpy in places. There are two idiots on the bike path with NO LIGHTS and at one point the girl turns her bike 90 degrees to block the entire path while putting her feet down and stopping. This causes me to run off into the dirt and grass while yelling "WHAT THE F*** ARE YOU DOING??" Seriously? You idiots though it was a good idea to go riding in the dark? It's 90 minutes past sunset so there is no way that these two geniuses were out for a ride earlier and didn't know it was getting dark. They were full on imbeciles setting up a situation for themselves or someone else to get hurt by their idiocracy. I hope they learned their lesson that it is NOT a romantic idea to go for a bike ride in the dark with no lights even on a bike path since oh gee, other cyclists use it too even in the dark. Where is Darwin when you need him?
Anyway, Brian and I get back to the cars and check-in with the DORC that we finished. I get my cookies from Brian as I'm not forgetting that before I go home! Sourav is happy to see Brian since he finished 2 hours earlier and been patiently waiting in a parking lot. Good day on the bike as always though!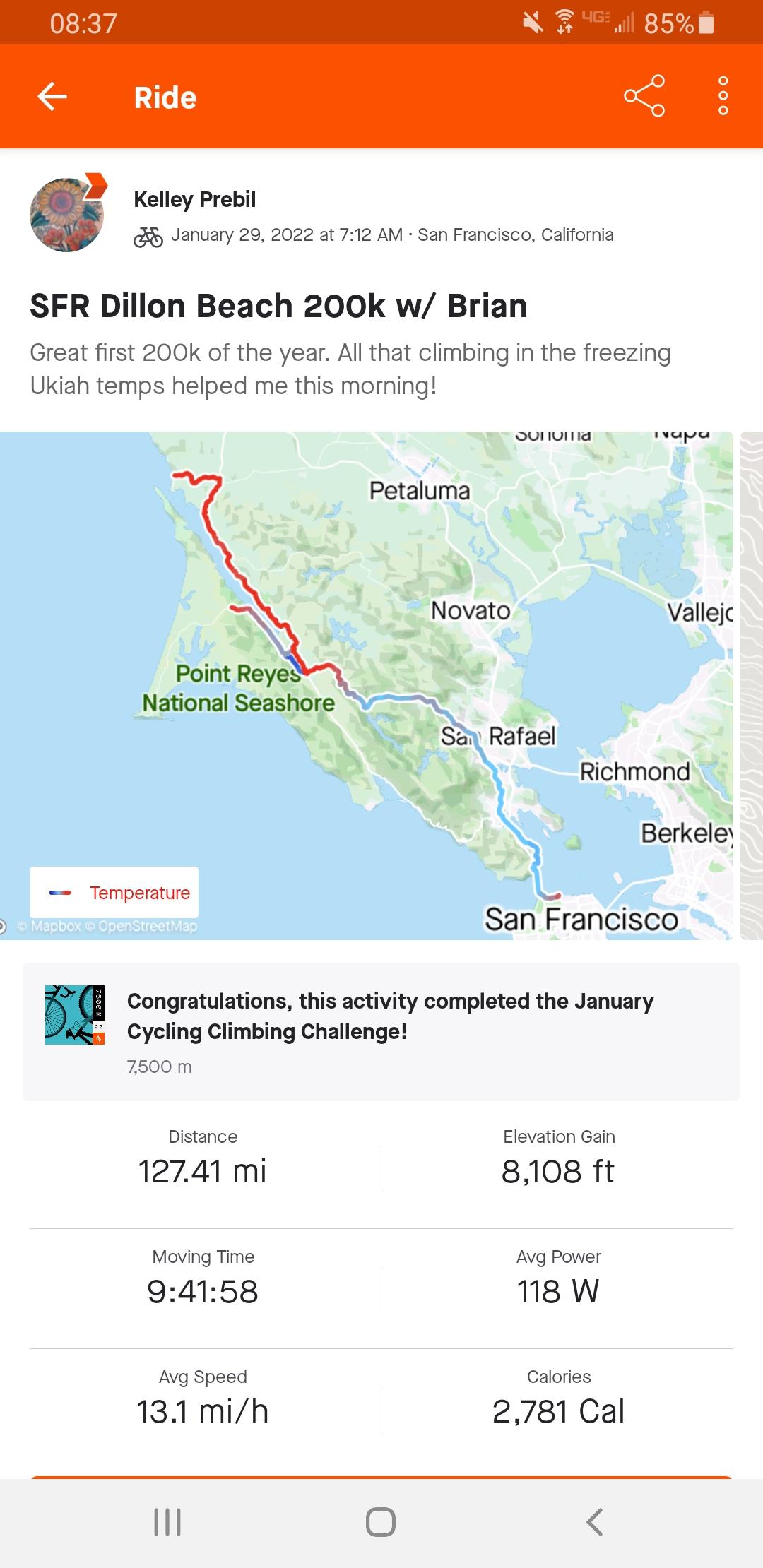 2021 SFR Dillon Beach 200k.
And as it turned out, the super fan did know who we were as we discovered on Facebook the next day. He is a cyclist from the South Bay who knows a lot of randos and knew we were going to be out there that day so he was waiting and looking for us!
Tai's video of Brian and me riding past him in Tomales!