The SFR Del Puerto Canyon 200k is by far the most popular brevet that the SF Randonneurs' has and usually scheduled for both the Spring and Fall seasons every year. I had done dragged my sorry butt through it in Fall 2019 that I almost bailed on several times in the ride due to being still knackered from the Davis, Dunnigan, and the Delta 300k I'd ridden the week before and the Winters 200k I'd ridden the week before that. This time though I had only ridden the Two Big Tujungas permanent (66 miles / 7200′ climbing) in the San Gabriel Mountains the weekend before so I was good to go for a 200k today. Having the Spring DPC 200k on 19 February 2022 seemed really early though in the year since it's still winter. I'm hoping that there's some cool weather in the Del Puerto Canyon though since it's long and exposed (aka no shade) the entire canyon with a good climb out of it.
I originally arranged to ride DPC with Brian and Robert (Brian's best friend and "rando husband" since they do so many rando rides together even though Robert lives in Tennessee). Like Fall 2019 though, Ken signed up for it at the last minute and texted me that he wanted to ride it with me. Unlike 2019 though, Ken didn't try to just surprise me at the start of the ride back when we had mass starts pre-COVID. Now with a start window, if you want to ride with someone, you need to arrange a meet-up time during the start window to check-in and roll out. I somehow feel like I rarely get to ride with Ken so take any opportunity to ride with him. Besides, this gives Robert and Brian some more quality time together. 😛
As always, even though Brian and Robert were going to start later than Ken and me, they're already there when I arrive. Ken's early too and ready to roll. I park next to his big red van which I'm wishing I was going to get to curl up and fall asleep in later (like after our DART 200k last September when I got to sleep back there all the way from West Sacto to Fremont). We check-in and Ken goes to find his friend Jacques, a rando from Alaska who is in town and going to ride with us today. We start off with a few other guys that of course know Ken. Everyone knows Ken. As Jacques says, if you're a cyclist in the Bay Area and don't know Ken, do you really ride? As with any rando ride, Ken is too busy chatting with the guys he knows that he doesn't hear me yell his name when my chain pops off. He continues on while Jacques and another rando stop to wait for me to get my chain back on. A quick fix, but Ken is already gone. I also know that Ken will eventually wait for me at some point which is at the top of the Patterson pass climb. Jacques is into wine so we ride chatting about different wineries, varietals, and regions. He just got back from a Paso Robles trip which of course I have to ask if he is familiar with Brecon Estate, my friends Damian and Amanda's winery where D is the head winemaker also. He knows of them, but not that familiar with their wines.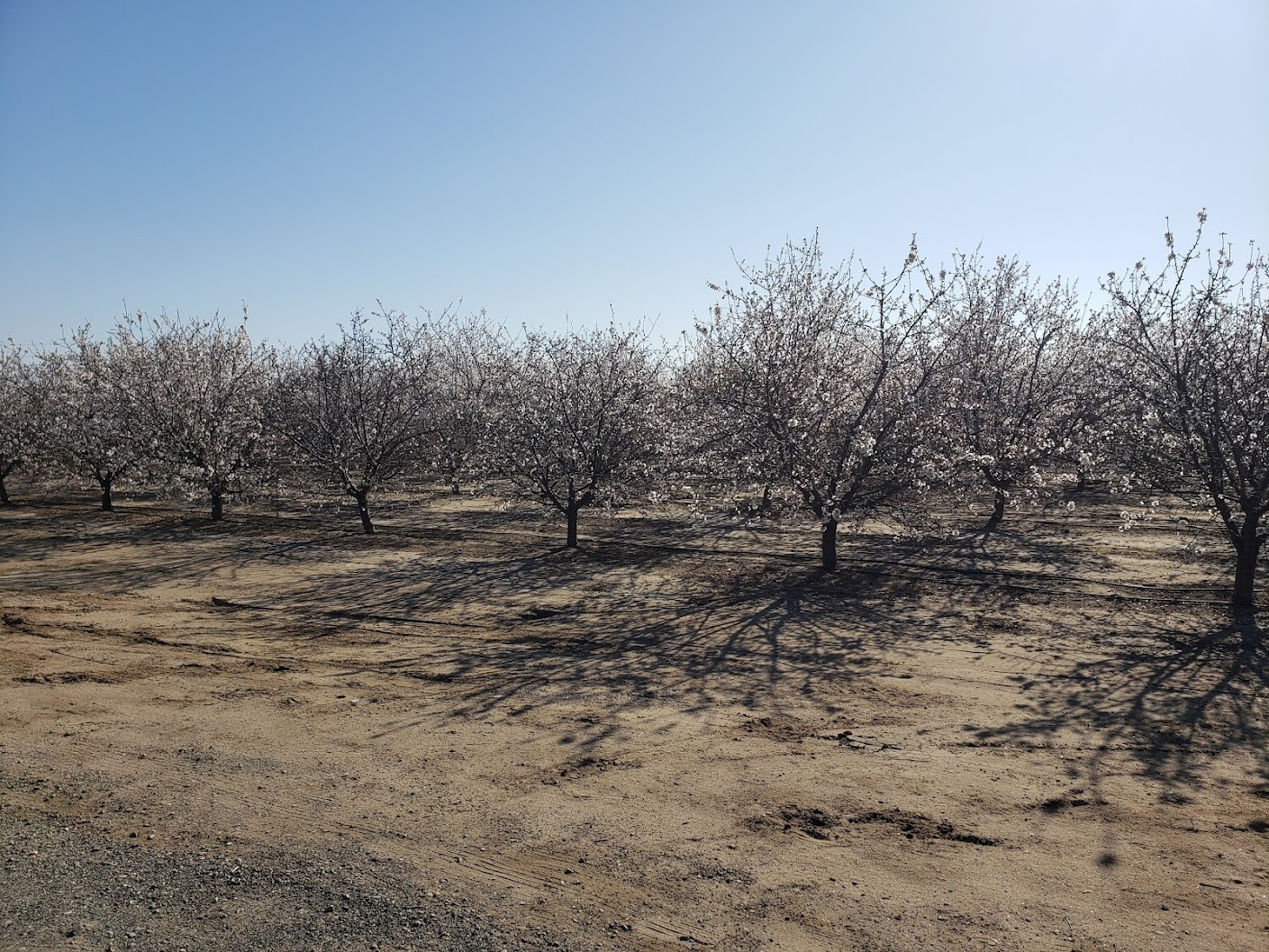 One of the many orchards we ride past around Tracy and Livermore.
We get to the top of the Patterson climb where Ken is waiting for us. I take a moment to take my jacket off before the descent. I haven't been over here in a long time and have forgotten what this looks like! It's a nice long meandering descent that you definitely need to be careful on since you can get some wicked speed through here equally matched with it taking paramedics awhile to get to you. We continue on through Tracy where Jacques takes a photo of the first Control. Brian and Robert fly by while I'm waiting for Jacques and Ken to be ready to go. We had a lot of blooming orchards around us which is kinda cool, but also still alarming as we're supposed to still be in Winter! Some randos stop in the old staffed control at the Jimmy's One Stop parking lot. I see Brian outside and continue on as there's a burrito waiting for me in Patterson.
Another really tall rando pulls up next to us and starts talking with Ken as they have the same bike frame. Ken is 6'1″ and Phil is considerably taller than him on a bike! His name is Phil and he was on the fateful Miner Road ride 2 weeks ago that fellow rando Ellen Le died on. We find out from him that she was climbing up Miner Road on a blind corner entrance/exit when the car came around the curve, crossed the center divider, and smashed right into her. This infuriates me since the 2 online articles I read about the crash had the driver claiming that both of them were on the wrong side of the road for them. This is complete BS since there is no chance of you "drifting" across the center divider when you're going uphill on a bike. Average cyclist is probably doing about 4 – 6 mph going up that road as the crash spot is a decent incline. She was separated from the group so no cyclists witnessed her death, but it's obvious the driver lied to CYA and not take full responsibility for the fact that he was driving recklessly and killed another human being. She was not at fault at all and she didn't "pop out of nowhere" like a lot of irresponsible drivers claim even trees, fences, parked cars, street lights, poles, etc. do.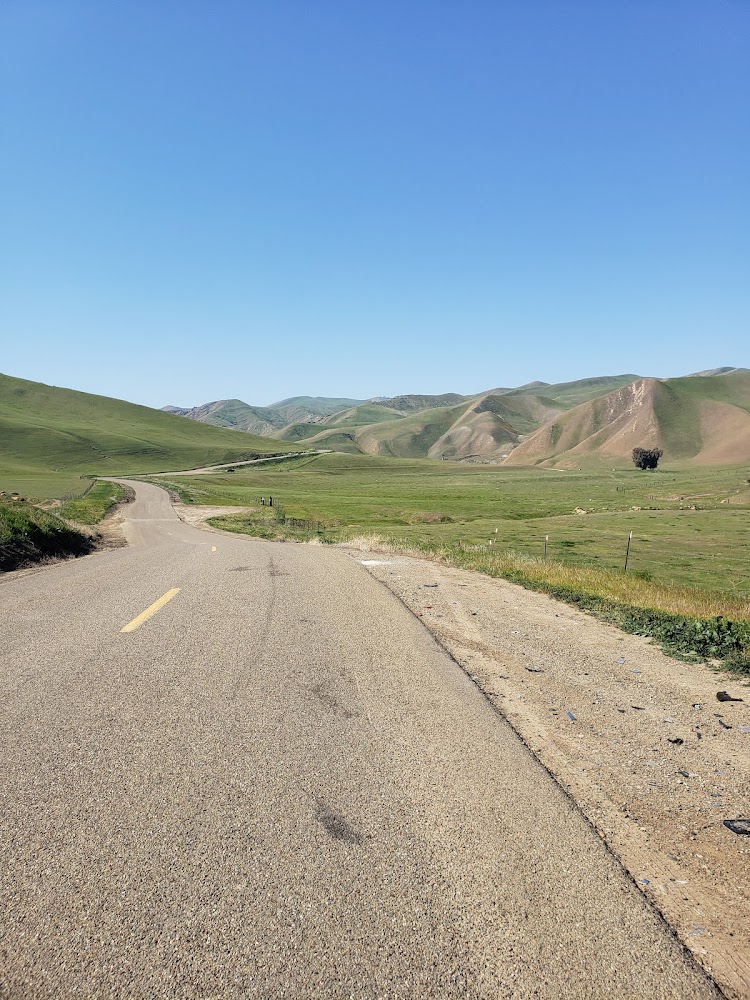 Del Puerto Canyon
Probably the only time I ever get excited on seeing a roadside marquee is in Patterson next to the 5 as I know that's where the usual lunch stop is on this ride. There are a few options which like last time, Baja Fresh is the best option I think given it's quick and convenient. We have a nice relaxing lunch. I take off my arm/leg warmers and put on sufficient sunscreen. I know the Del Puerto Canyon is coming up next and not really looking forward to it since I suffered a lot on it last time. We lose Phil quickly since I forgot to ensure my saddlebag was sealed nice and tight with it stuffed with my leg/arm warmers now along with everything else that's usually in there.
We turn right onto Del Puerto Canyon Road in front of a Sherriff car. I joke about how here's our ride back to our cars. Kind of an odd spot to have a cop car, but as long as I don't get pulled over, I don't really care. The Sherriff car heads off towards the 5 right after we turn. We ride through all the little hills in DPC and there are some spots with abundant wildflowers on the hillsides. The rest of the canyon is all green! There aren't many cars since there's no reason to drive through here and the only cars we see are only a few miles into the canyon. A small creek runs alongside the road which Ken says is always there. I guess there's still some thought on putting a dam up that would flood the canyon (therefore eliminating this rando route), but I haven't heard anything about that idea/plan in quite some time.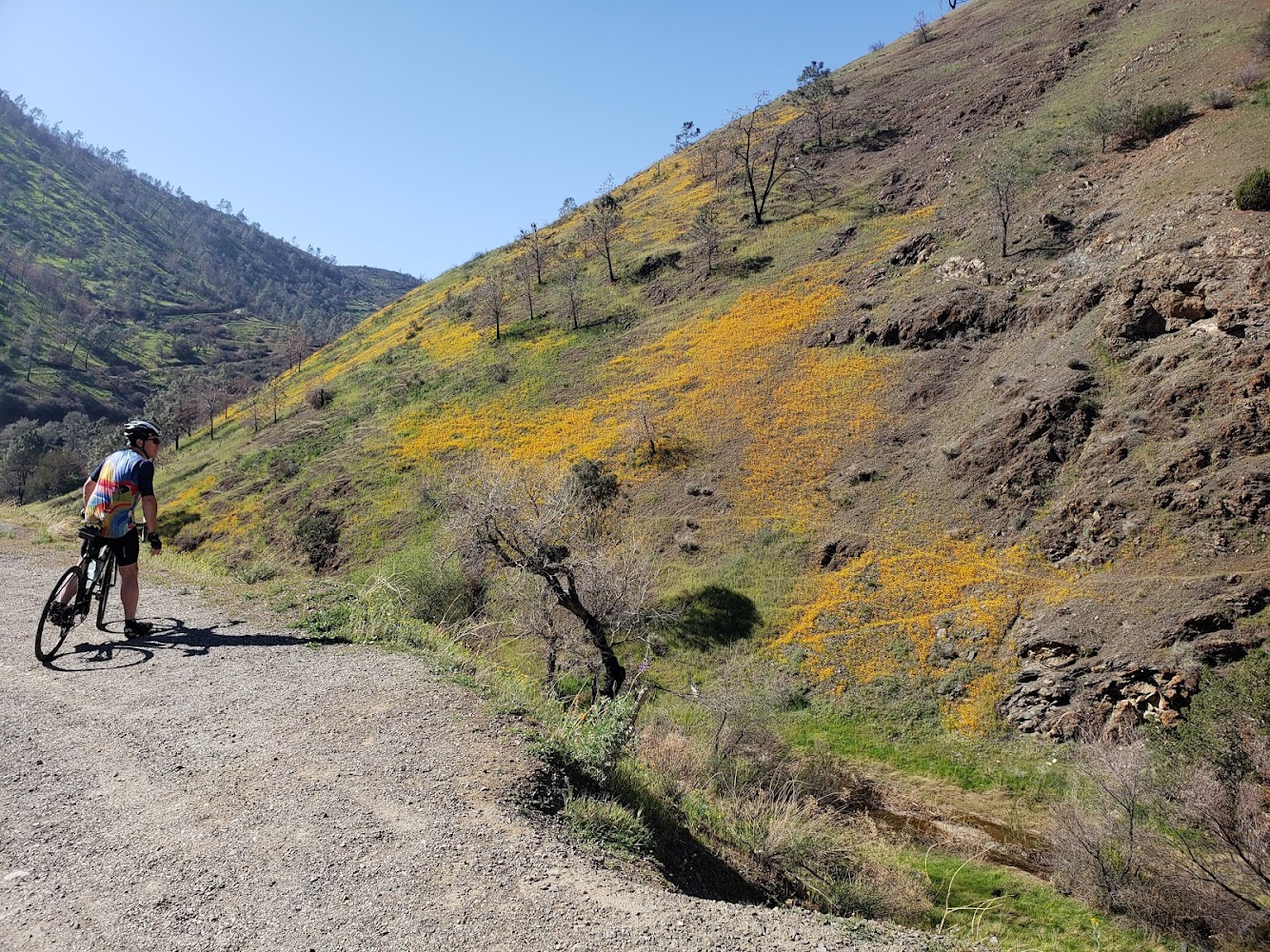 Wildflowers in the canyon
Ken starts thinking that we missed the spring water stop which is an important stop to make since that's the only water in here. Even though I filled up in Patterson and usually channel my inner camel on rides, given the lack of water options, I want to make sure that I have plenty of water on me just in case! There isn't much from the Fall 2019 DPC that I remember, but I definitely remember what the spring water stop looked like. We come across it finally (81 miles into the ride) with several other randos there and a volunteer helping open/close the spigot so we can fill our bottles. Part of the stream crosses the driveway into the tap area which reminds me of the time I was mountain biking along Bolinas Ridge with my friend Bonnie after some recent rains and every time I hit a puddle I would joke about whether my bike was clean after hitting every muddy puddle.
Bottles filled and back in the saddle, we head onto the steepest part of the climb where we go up 1000′ in only 3.5 miles. The total climb is about 22 miles / 2300′ which is a good amount of mile-climbing ratio in the Bay Area. DPC doesn't have any shade though which I hope I am never hear on a hot day! My legs are okay with this climb, but I'm noticeably sweating. I'm half Chinese by blood and enjoy my usual lack of ability to sweat profusely. Every time I look down, a bead of sweat falls to the ground. I'm curious on what my Garmin measures for air temp, but every time I touch my Garmin Edge, I leave salty streaks across the screen and can't read it. I stop twice in the 3.5 miles to wipe my eyes as they're stinging from the sweat running into them from my forehead.. I definitely do NOT remember this from the last time I rode here! There isn't much talking among us as we all suffer in silence. Jacques is somewhere ahead of me and Ken is lagging behind for a change.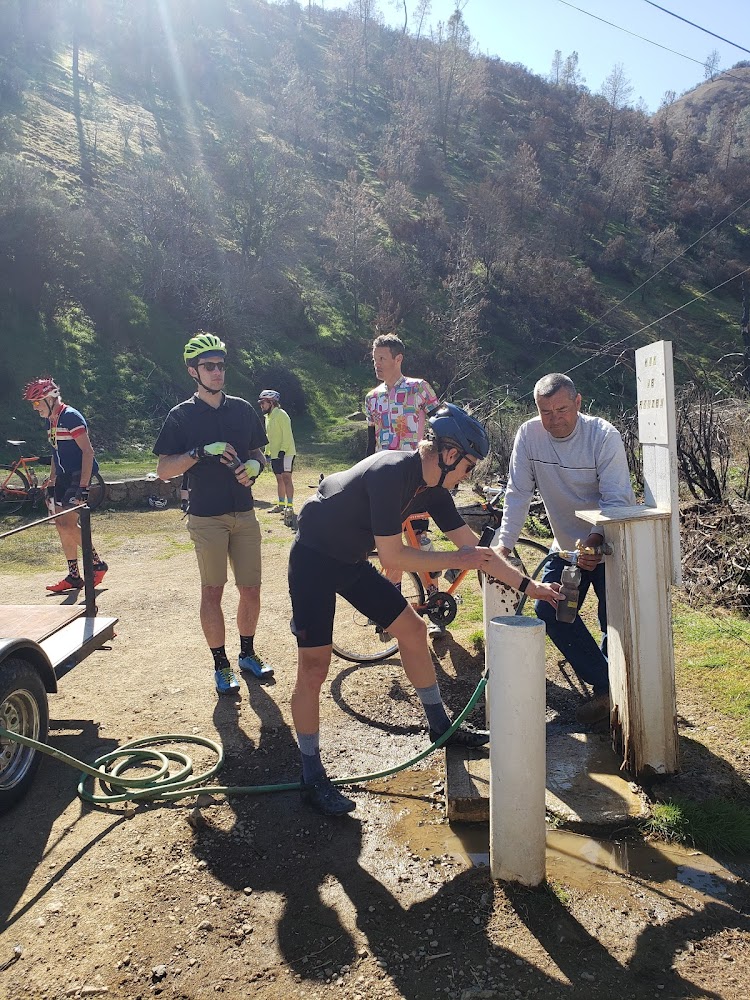 Spring water stop, the only place in the canyon to get water
I finally get to the top of the climb at The Junction which almost seems like a mirage at first! Rob Hawks, our long suffering Regional Brevet Administrator, is there checking people in that we've arrived here. There's a huge container of spring water that's almost empty. I down the last of my water in one water bottle and go to refill it. A volunteer offers to hold my bike for me. Jacques helps tilt over the container while I get some of the last precious drips of water. We head off towards Miner Road, a fun road to ride, but a somber feeling on it today as we all know that that is where Ellen was killed.
Ken wants to look for Ellen's roadside memorial and said we can continue on without him once we get to it. I want to see it and pay my respects also even though I didn't know her. Not knowing her doesn't matter to me as she was a fellow cyclist and rando. We make our way over some smaller climbs and then come around the blind corner with the unmistakable memorial just on the other side of the road. Unlike many cycling accident memorials, this does not have a ghost bike (a bike painted white to indicate that a cyclist was killed at that spot while riding). There are numerous flowers and cycling fuel/snacks. Another couple stop while we're there and throw a bag of Peanut M&M's. They say that they knew Ellen also (as did Ken of course). Every rando I talked to after the ride said that they also stopped here to pay respects and review the accident site. We all agree that there was NO WAY Ellen was on the wrong side of the road. Tire skid marks show that the car was WAY over the center divider. We regain our composure and continue down Miner Road.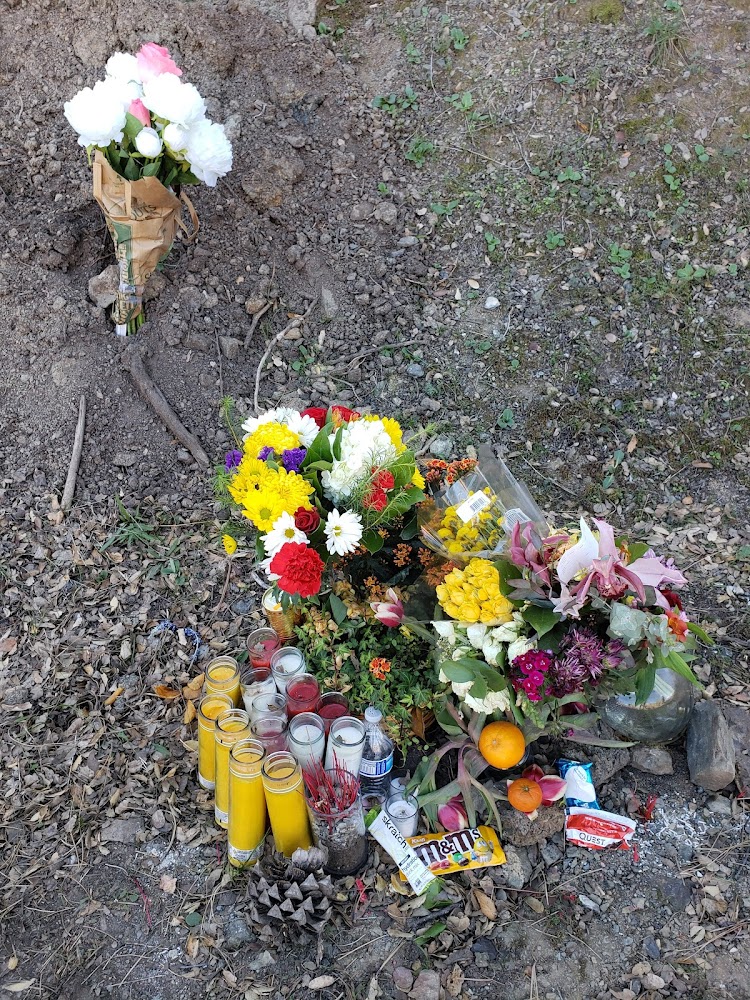 Ellen Le's roadside memorial where she was killed by a reckless irresponsible motorist
We continue along Miner Road towards Livermore in a loose pack with a handful of other randos. Ken is, of course, out in front a lot of the time after complaining to everyone that he hurt his calf the other day, has his geared bike, and wanted me to "go easy on [him]." We aren't in a paceline and just riding along chitchatting with whoever is near you. I pass by Kitty at one point which I should have known it was her as she was swearing at almost every car that went past too close or too fast! There was one truck that flew by us that she yelled at. It goes around the curve in front of us and we see a cloud of dirt get kicked up. Kitty and I come around the corner ourselves and see that the only dirt patch was on the inside shoulder which means that the driver had little control going around the corner and went off the road! We had seen several sports cars speeding on the road throughout our time on it. This road doesn't have a shoulder in either direction making it very dangerous to speed on.
I catch Ken and tell him that I have a hot spot in my right foot and need to stop at the bottom of the descent of this road. Jacques is somewhere up ahead and don't want to stop until we catch up to him. Ken has hot spots too so also needs to take his shoes off soon. We descend to where Jacques is waiting for us and stop as Kitty & others soldier on. All 3 of us take our shoes off for several minutes. Jacques tries to encourage me to lay down on the road with my feet up to help alleviate the hot spots. I told him the last time I laid down on a ride (DART last September), I was blissfully kind of out of it until I heard Ken barking at me to get my butt up off the grass and back on my bike. Ken assured me that he'll make sure I get up again this time, but I remain seated upright.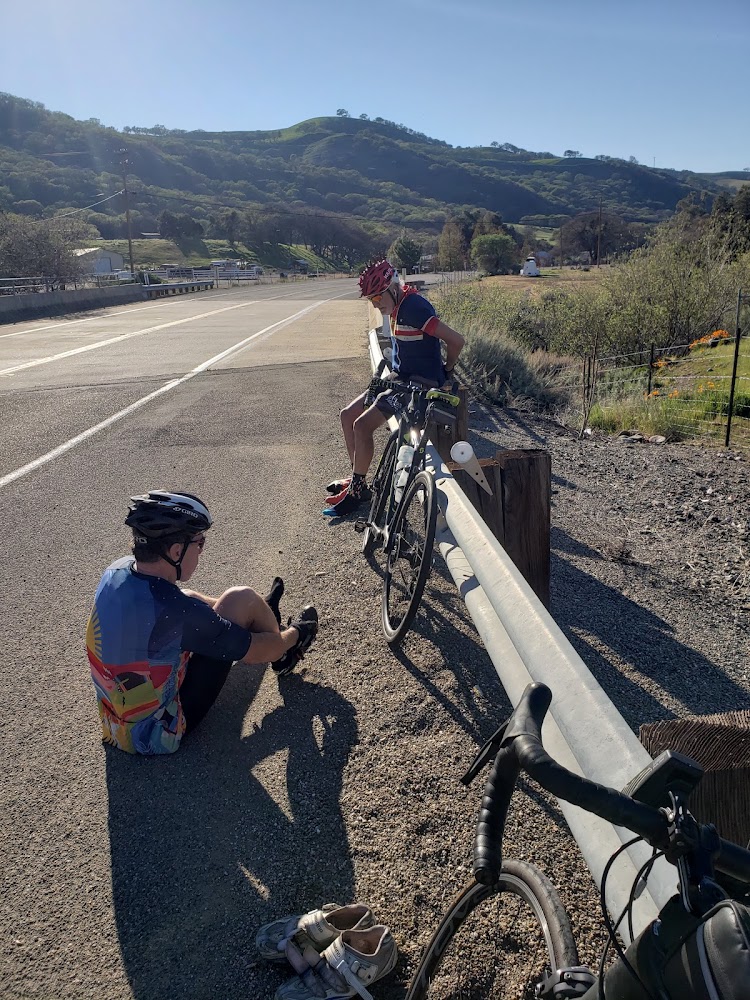 Relieving hotspots roadside
Feet relatively happy again, we continue on for the relative home stretch of the ride. We're 178 km into the ride with 26 km to go! All the climbing is over with and we'll hit regular city streets again soon for the meander back to the Dublin/Pleasant BART station finish. More randos join us as we ride through Livermore and Pleasanton. It's easy flat riding all the way back and we made good time as I usually expect a 200k to take about 10 hours. Today is no exception as we roll into the BART parking lot at 9:59:07 elapsed time when I stop my Suunto watch. I immediately text the DORC (Day of Ride Contact) to let them know that Ken and I finished as I already have Ken's RUSA number from previous brevets we did together and I checked us both in at the end.
Brian texts me if I finished yet as he and Robert actually finished before us! They didn't stop for lunch which is how they passed us and Brian was riding faster than he has in several months on purpose. They're at a nearby In-n-Out which I'm tempted to stop by, but there isn't really anything I can eat there, I'm leaving for a week of skiing in Truckee the next morning, and more importantly, I want a shower. I'll grab dinner and hang out with them after the next ride we do together!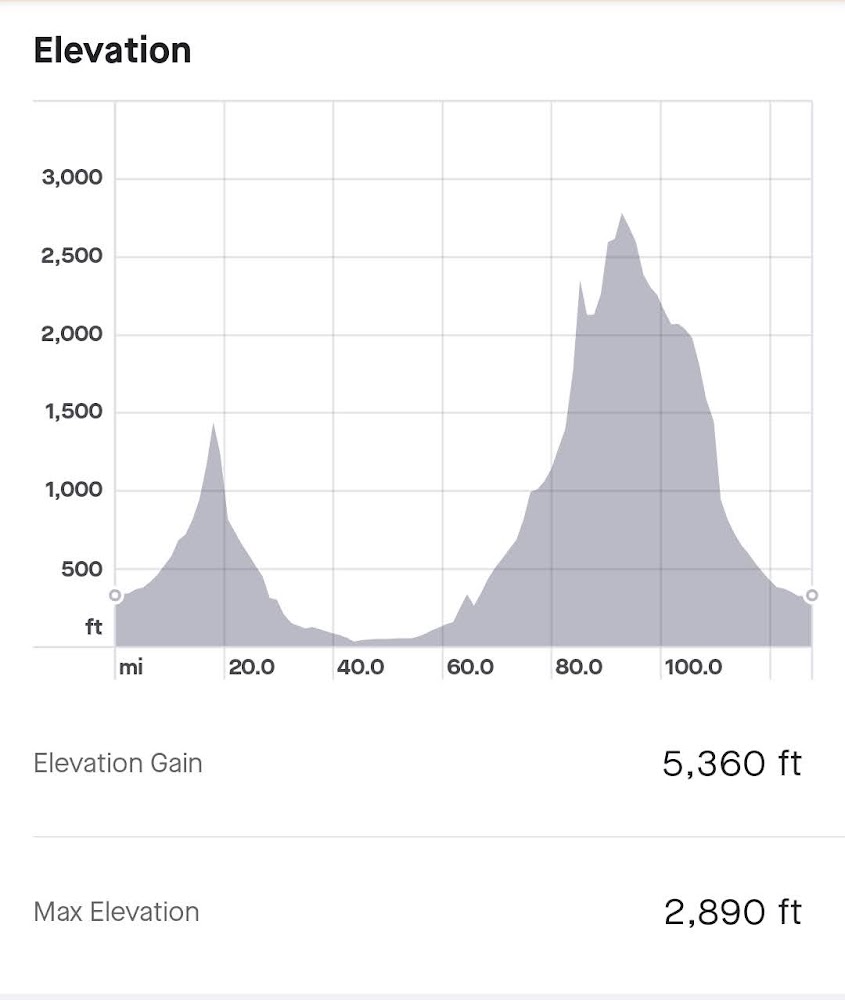 SFR DPC 200k Elevation Profile. Patterson Pass is the baby climb on the left. DPC is by far where most of the climbing is!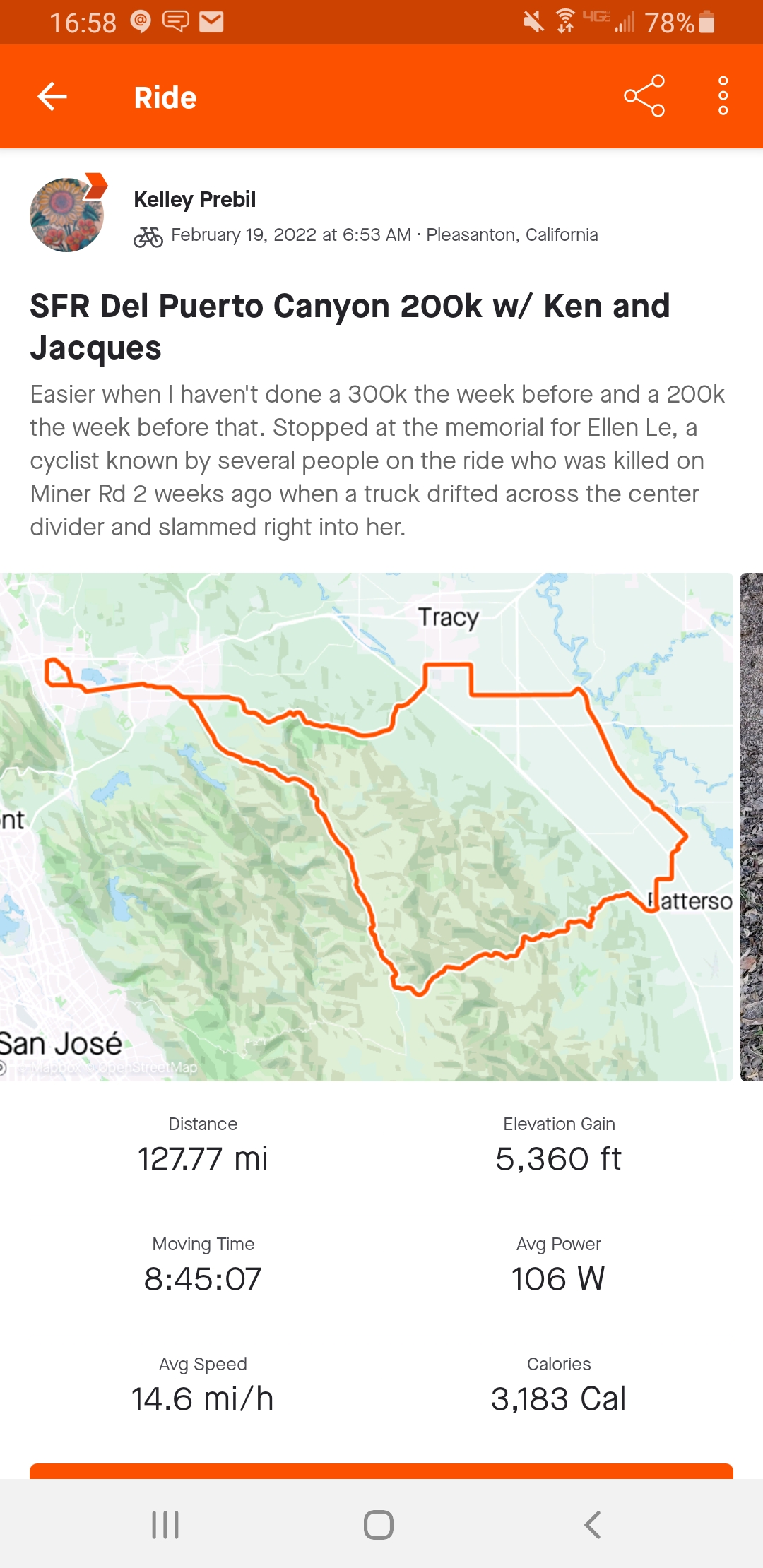 Spring 2022 SFR DPC 200k