An easy way to cop out of doing a 300k is when you can say "been there, done that…just last year, but I haven't done this 200k route yet!" Most riders were doing the Healdsburg 300k since it's a PBP qualifying year. Paris-Brest-Paris 1200K is scheduled for 2023 so now a bunch of randos are doing their ACP-sanctioned 200K, 300K, 400K, and 600K qualifying rides this year. The Healdsburg 300k is the first ACP 300k in the area so had a great turnout. The Pierce Point 200k, however, only had about 20 or so riders signed up for it which is low for a 200k! I asked Dan if he wanted to do the 200k with me since my usual rando riding partners were off doing the 300k. This is actually the first brevet we've done together and Dan's longest ride of the year as in part he got a little addicted to Zwift rides. I've never tried Zwift, but considering how many cycling friends do it, I'm guessing it's not exactly a Peloton, Soul Cycle, or average spinning experience (as my friends EJ and Rob always designed their classes like actual rides).
Still having staggered starts, Dan opted to meet up at 7 a.m. to start riding. I get to East Crissy Field first and am trying to stay warm as it's hella foggy and chilly. You can't even see the Golden Gate Bridge! I repark my car as I decide that the sand plot right by my first parking job isn't going to be ideal to stop on later. I don't recognize any of the other randos around. This is my first rando ride in my new SFR jersey which I'm ridiculously excited about getting to wear! Dan shows up and we quickly get ready and roll out towards the bridge. I wonder why my Garmin is telling me that I'm off course. I had grabbed the route off of the Route Archive on the SFR website since uh, I missed where Rob Hawk, our tireless RBA, included the link to a revised route that starts at Crissy Field and not the GGB where the SFR rides used to start. Dan says it was in one of the 3 emails he sent though. Oh well, not like I don't know how to get to the GGB from Crissy Field and the rest of the route should be the same.
The GGB is cold, wet, foggy, and windy. I'm glad I have my jacket and arm warmers on! Dan pulls ahead and even though I couldn't keep up with him on my best days, I'm wondering if I'm going extra slow for some reason. He won't totally ditch me though and sure enough he's waiting for me at the other end of the bridge. We finally get a patch of non-fog which I joke that Marin residents signed an ordinance that forbids fog from ever being in Marin County. We descend down into Sausalito which for some reason feels like forever since I've been over here (it's been 6 weeks). We make the usual path towards Corte Madera. Matt, a new rando, catches up to us while climbing Camino Alto. I warn him to not be fooled by Dan's slow speed up as he's wicked fast, but going my pace today. Matt pulled over around the top to do something (I forget what) and we lose him at the end of the descent. He seems faster than me so I'm sure we'll see him again later.
The absence of a lot of randos is quite apparent today as we are hardly seeing any fellow randos. I'm not sure how many started before we did or how many started after us since we started in the middle of the start time window. I'm familiar with the route all the way to the SFD / Pierce Point Rd junction having just done this exact line during January's Dillon Beach 200k in January. I just hope that it's not 34F in Inverness again! Luckily it isn't even though it's not exactly warm either. I'll take it though since at least I can still feel my hands. And I'm glad that we aren't doing a lap around China Camp since it's just not a particularly inspiring piece of road. I'm not a fan of Paradise Loop either for similar reasons (I imagine those with houses on the Bay side of the road have GREAT views though!). During the Dillon Beach 200k, we saw other randos on the out-and-back portion of SFD after the Bear Valley Road junction. Today we don't see anyone though! The SFR / Pierce Point Rd junction looks empty compared to 6 weeks ago when that was a turnaround point and a Control on the Dillon Beach 200k route so a lot of randos had stopped there to take their timestamped photos and/or snack and socialize.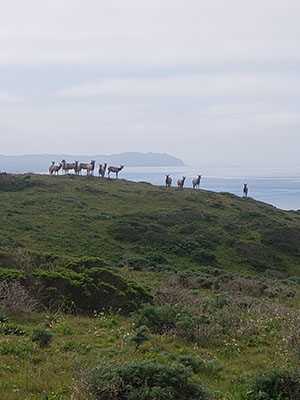 Elk in the Tule Elk Preserve!
We quickly come up on the Historic H Ranch which I think is the Pierce Point Ranch at first. I'm disappointed to find out that it isn't! Dan says we still have 6.4 miles to go to get to the Pierce Point Ranch. This is a fairly crappy road with lose gravel all over it. The scenery is pretty though and wildflowers have sprung up all over the grassy areas. We finally see a couple of cyclists ahead of us on a climb and know they have to be other randos. Matt passes us on his way back towards Point Reyes and we wave at each other. There is a lot of climbing on this road which gives us the idea that this is where most of the climbing on this ride is (partially true and we know the rest of the route profile). We come across a entrance sign to a Tule Elk Preserve which I don't pay much attention to. Did Dan just say "Elk at 10 o'clock"? After I momentarily forget and then remember what direction that is, I see 12+ elk on the ridge! A few other randos have stopped to take photos of the elk who are all looking at us in return. The tail end of Pierce Point Road gets a bit more narrow and descends to the ranch. Dan and I have caught up to the other randos we saw from far away. He passes them before the descent and I get stuck behind them as they both brake A LOT descending. The road is kinda crappy here and I'm trying my best to control my speed and stay upright as I try to safely get around them. I failed to pay attention to what the photo control was here so decide to rely on my Garmin for my EPOP. I question why so many people drive all the way out here to just go walk .4 miles to a small beach. Dan points out that we just rode 51 miles to get here. Hey, cycling miles don't really count as "that's crazy." We take a moment to look across Tomales Bay at Nick's Cove and think about how we're so close, but we need to ride 30 miles to get there. Time's a-wasting!
I'm already getting hungry and tell Dan that I want to eat in Point Reyes BEFORE heading to the next turnaround at Nick's Cove in Marshall. We start pedaling out and I'm excited about the prospect of finally trying Bovine Bakery pizza, which will also only be the second time I've eaten there. I even brought my new handlebar bag to bring home some baked treats for tomorrow since that vegan ginger peach scone I had there last time was simply awesome! Since we climbed most of the way here, that means we get to descend down this crappy road most of the way back. Between the loose gravel and cracks in the road, I'm so grateful for all of my mountain biking experience! I can't clearly see the road most of the time as I'm bouncing down it and wishing I had my full suspension mountain bike. Mountain biking also makes me less freaked out on a road bike when I momentarily lose my back wheel's traction and straight line momentum. Dan isn't too far behind me, which I don't know if he was keeping his distance expecting that I'd crash or distracted by wanting to take a photo or something like that.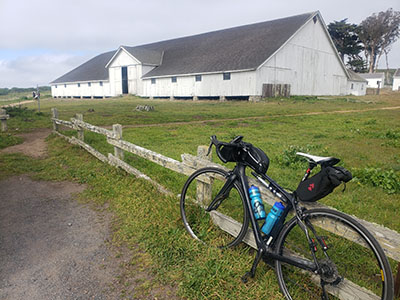 Pierce Point Ranch
We pull into Point Reyes Station at about 1 p.m. and hope for the best with Bovine Bakery, which I also know is Dan's preferred lunch stop. Luckily there are only a few people in line so we fall in. I decide that I want a couple of cookies and scone to go along with a rare time of me ordering non-vegan with a slice of veggie pizza (which they nicely have 3 meat-free options at least!). I silently curse whoever took the last vegan scone though one or two people in front of me in line as someone comes out and crosses that off the menu! Dan mocks me as I stuff my cookies into my handlebar bag. We eat our pizza slices at the recently restored picnic table in the grassy area at the corner. We talk with a couple of other randos there whose names I've totally forgotten soon after we depart. I'm probably not eating enough, but that's also on par for my cycling life. It's a bit warmer, but since we're about halfway done with the ride and it's not hot, I opt to keep my arm and leg warmers on. Sorry ridiculous tan lines, you're going to have to wait longer to exist again. We fill up our water bottles and head off.
Dan isn't entirely sure where Nick's Cove is even though he's passed it countless times. I know exactly where the turnaround is though so I take the lead there along the thousands of short climbs and descents along Shoreline Highway. Matt waves as he flies by us on his way back from Nick's Cove as he apparently didn't stop for lunch on his way North. I stop to take a couple of photos at Nick's Cove and notice that my relatively brand new Suunto 9 Baro is saying its battery is running low. This is supposed to be an endurance watch with at least 25 hours of runtime and I've been using it for the last 3 200k rides with no problem and plenty of juice left at the end of those rides. WTF is going on?? I at least have my Garmin Edge that will definitely last with my Anker charger so glad I'm recording with both! We head back to Point Reyes station with a quick water top-off there. My watch gives a 1 hr warning and I switch it to the "3 hours in Endurance mode" (which Endurance mode is supposed to be 100 hours). I speculate that maybe there's some horrible setting on my watch that happened by accident that's going to cause it to die in 7 HOURS. I'm praying that it will at least last until the end of the ride, but am disappointed when even in Endurance mode it doesn't even last half an hour before it totally dies. This watch has been a great improvement over my Suunto 3 Ambit Sport that I've had for the last uh, 6 years, but right now I'm missing the old watch since even after 6 years of nearly daily usage, I never had battery issues with it! Okay screw you Suunto 9 Baro as I've got my Garmin Edge 510 at least still functioning (which is also a rather old model, but hey, still works!).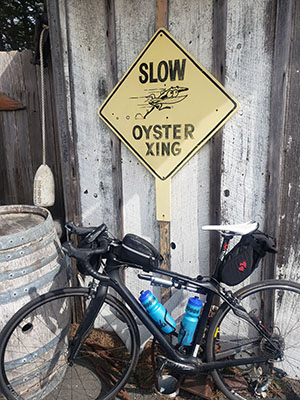 Nick's Cove
We pass through Olema and turn to climb up to Bolinas Ridge. I really like this climb even though it's usually towards the end of a ride back to SF (and beats dragging my sorry butt up Panoramic Highway). Not too long or steep anywhere and it's a fun descent down the other side…no matter which direction you go on it. I always think about the Double Dipsea at the Olema side since just south of that junction is where the Double Dipsea starts/ends in Stinson Beach. I was staying at a friend's house in Forest Knolls when I did the Double Dipsea last year so I drove through this intersection going both ways. We get to the top of Bolinas Ridge and proceed down the too short descent to Tocaloma. We meander along SFD through the redwoods and notice it's starting to get a little dark from the tree coverage. We come across a couple more randos on their way back to SF. After we exit the redwood tree area around Samuel P. Taylor State Park is when I start whining about where the hell is White Hill. My brain gets really bored between Lagunitas and the top of White Hill every time I ride through here. I also LOVE the descent from White Hill into Fairfax.
Dan gets to the top of White Hill first and we start descending along with a few cars. We're both going faster than the cars and for some reason the red car right behind Dan starts driving in the shoulder effectively blocking my way around their slow ass. I'm maxing out at 42.4 mph in a 35 mph zone! The car finally gets out of the shoulder and I fly right past them and catch up to Dan, which I also feel WAY safer in front of that car than behind it. I'm also, as always, proud of making the Your Speed signs to say "SLOW DOWN" here. 🙂 We get into Fairfax and then it's auto-pilot all the way back to the city. I request a quick stop in Ross as I'm actually hungry and need a small snack to quiet my stomach. We also take the opportunity to put jackets back on as it's undoubtedly going to be chilly heading back across the bridge.
We make our way back to the Mill Valley bike path which I always love at the end of rando rides as it feels like start of the home stretch and the funny thought in my head that pedestrians and other cyclists on the path have no idea the distances we're finishing up. Dan and I go up and over the Gate and then beat a path back to Crissy Field. I text the DORC that we've finished the ride and we get ready to go home. There's another cyclist standing next to my car who looks at me and asks if I'm Kelley Prebil. WTF? He introduces himself as Brett and says that we have mutual friends, which still confuses me on how he knows who I am by sight. He's trying to recall who it is that we both know. He finally tells me that his Strava name is Leopold Porkstacker and NOW I know who he is! He had sent me a Strava follow request and I asked my friend Brian who was that. Still not sure how Brett knew what I looked like, but at least that clicked it in my head! We chat a little as he's quite talkative. I feel bad on one hand as I'm trying to change into regular clothes as I've got dinner plans with a friend in the Haight while keeping some modesty (for once!). I continue talking to him for a bit and then excuse myself as I need to change and head out. He's waiting for the rando whose car I'm parked next to to get back as they had carpooled there together. Brett didn't do our ride and did a shorter ride so he's been there for quite some time. I hope his friend gets there soon since the fog is starting to roll back in and it's getting pretty cold, especially when you're wearing nothing but lycra! Since I know who Leopold Porkstacker is now, I also accept his follow request on my Strava!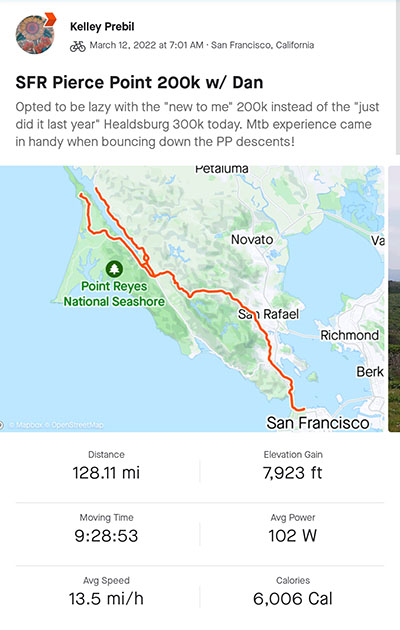 2022 Pierce Point 200k