Rob was generous on putting an extra brevet on the calendar for those who would have Monday, 20 June off in observation of Juneteenth, a new Federal holiday that my employer added to help promote our dedication to DEIA. Luckily Brian and Robert were both available and ready to roll for the Russian River 200k route today. Given the San Rafael start at the Smith Ranch Park & Ride and the guys driving from the South Bay, I asked them to swing by and pick me up on the way. Brian gave me a seemingly unholy hour to pick me up since he likes to get to brevet starts early. Too early. For a 7 a.m. start he was planning on picking me up just before 6 a.m. as the start was about 45 minutes from my place. They were running early and picked me up at 5:40 a.m. though which we then got to the start at about 6:15 a.m., 15 minutes before check-in even started! Now that we're back to group starts too, we couldn't start until 7 a.m. either. So some questionable driving decisions were made to get the closest Starbucks as the guys wanted to eat and drink more before the start. I needed some caffeine as I had spent most of the drive curled up in the backseat wondering why did I volunteer to do this on a holiday instead of loafing around the house. Then again, I think about that a lot on brevet days too. We get back to the Start to get ready and say hi to Jasmine, Sandra, and Ioannis who are also signed up for the ride. I think this is the first time I've actually met Jasmine in person too after we've just kind of orbited around each other in Randoland.
Rob gives us the usual group start speech in this awesome "38 miles per burrito" with a bike t-shirt that I SO WANT. Best thing about the group start is going back to our SFR pre-ride pledge with our right hand raised and say "I insert name here promise to not do anything stupid." And then we're off! Peddle out the back of the parking lot and hang left to get to the intersection we make a left to get onto Lucas Valley Road. I haven't started a ride here since a Monte Rio 200k route that I'd designed in 2020 that I did with Sandra and Brian. The weather is kinda perfect right now as it's not hot or cold. The small group of us pretty much stick together on this long approach to the climb. I tell Robert and Brian to wait for me at the top since Brian has regained his climbing legs and Robert has always been a strong climber. It's a nice enjoyable climb that isn't hard as it's just kinda long and longer than you ever expect it. All the riders split on the climb after we approached it in one mass. I get to the top and only Robert is waiting for me, which I just take it as at least Robert waited for me. Not that going faster really serves Brian any since he can't leave at the end without us (or at least he WON'T leave without us). Robert and I descend down the other side of LVR and head through Nicasio. Neither of us can remember what the Control locations were as we only use that as backup in our trackers fail. We stop quickly at the Rancho Nicasio as Robert *thinks* that this is a photo control, but not sure. We keep going and turn onto Pt. Reyes – Petaluma Road. Another climb that I'm always thankful when I get to do it without full sun and heat since it's lacking shade on the uphill side. Given that I didn't really pay much attention to the route, I neglect for a minute that we're turning onto Hicks Valley Road. Robert can't remember if we're going over Marshall Wall or Wilson Hill. I recall that we're riding Chileno Valley Road which means we need to do Wilson Hill to get to the start of Chileno Valley Road. Good short climb that even on my worst days it helps that I can always remember that it's not that long, has a great view at the top, and is an easy descent. I tell Robert about the time last year that I did an out-and-back of Marshall Wall and Wilson Hill from Forest Hills and was short by about 20 miles on my distance estimate (oops). I stop at the top to take a couple of quick photos.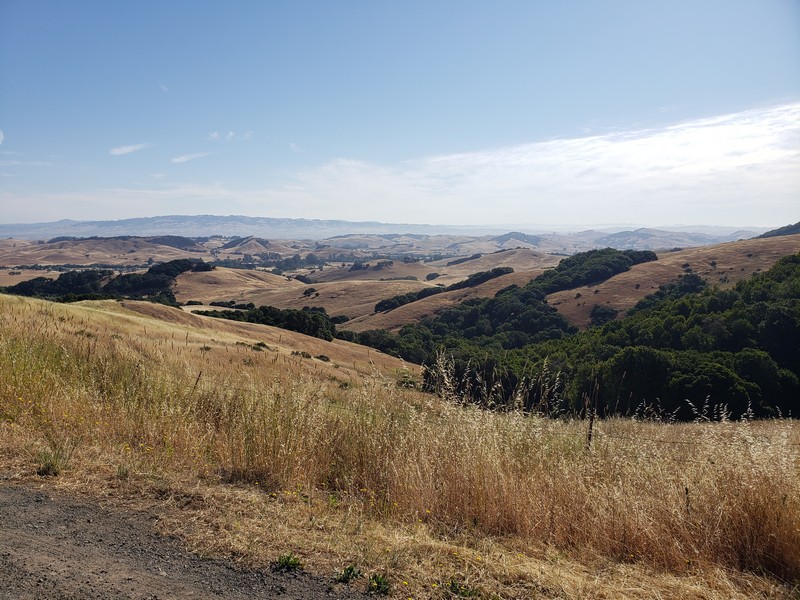 Top of Wilson Hill
We get to Chileno Valley road which is a lot longer than I remember it. Still no sign of Brian. We turn onto Tomales Petaluma Road and Robert double backs to take a photo of some of the poppies at the side of the road. I peddle on knowing that Robert can easily catch up to my slow butt. We pass by a group of riders who I think may be changing a flat tire or something, but don't look too closely. We wave to them as we go by and I tell Robert that we need to stop when we turn onto Alexander Road so I can take my vest off. Low and behold that Brian materializes while we're standing there! He must have been in the group at the side of the road. He's wearing his new Mason Dixon 1200k jersey which I'm still trying to get used to seeing him for some reason. Reunited in our little threesome, we continue on towards Fallen-Two Rock Road. At this point I've totally forgotten the rest of the route to Monte Rio so relying on my Garmin and the guys having a better memory on where we're going (haha).
There's a small congregation of randos at the Valley Ford Market. Robert and Brian go to get something to eat inside while I hang out outside. Ioannis is right behind us and also goes into get some food. I grab one of the bars out of my bag which has some white stuff on it which I quickly decide that I'm not in the mood for testing my stomach's luck. I grab a second bar out of my handlebar bag that looks way more promising that it won't threaten to kill me. Sandra pulls up and in true Sandra fashion, she has her own food that she quickly snacks on. Some other guys ask what we're riding, which as usual leaves them dumbfounded, in awe, and/or thinking we're out of our minds. Today's no exception as we nonchalantly say that we're riding like 128 miles or something and it's really no big deal. Some other randos have extra water they bought so we graciously accept their offer to fill up our bottles. This is a very standard Rando tradition and almost a calling card at our controls of a seemingly random large water bottle sitting outside for others to fill our bottles from. Kind of like the faster cyclists taking care of the slower ones or just that randos take care of other randos. 🙂 Now that we've picked up Ioannis, we're a happy little fivesome now heading north to Monte Rio via Freestone.
We stop in Freestone because of course Brian wanted to get scones or something at the bakery. I've never tried anything here, but there's always a line so I assume it's got to be good. Some other customers try to be helpful by telling us that the rest of our group went to Occidental for lunch. I thank him even though this isn't exactly a group ride where we try to stay together the entire time or that the faster guys will be waiting for us. Brian abandons his scone dreams and we head off although we've lost Sandra. I thought she had pulled into the parking lot, but she may have kept going. All we know is that we don't have her and don't know if she's ahead of us or behind us. She is infamous for not wanting to wait for us anywhere and saying "I'll go on ahead as you'll just catch me anyway." The joke being that every time she says that is the last time we see her for the rest of a ride! I can't keep up with the guys and lose them going into Occidental. I look around and don't see them anywhere so keep peddling. Next stop Monte Rio where they have to be.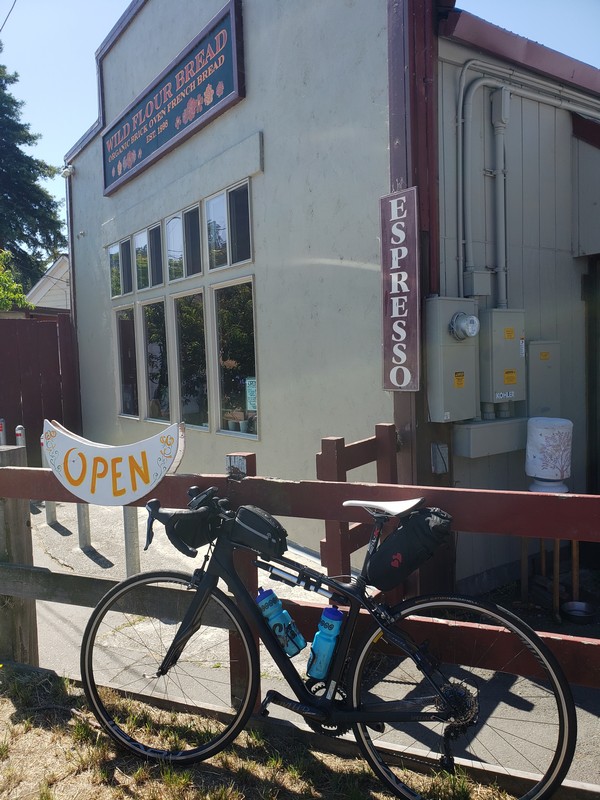 Wild Flour Bread in Freestone, which I've never tried and always has a long line
I finally see Brian maybe about half a mile ahead of me so am less stressed of not knowing where the guys are or how far ahead of me they are. I'd mentioned the place in Monte Rio right on Main Street that Brian, Sandra, and I stopped at last time that is a possible place for lunch. I'll never remember that it's actually called Lightwave Coffee & Kitchen. The guys are waiting for me and I'm extremely disappointed to discover that they're closed on Mondays!! ARG! I'm hungry too. 😦 Robert suggested the Duncan Mills General Store for lunch which I'm hoping it's closer rather than farther away. I'd have been fine with the Safeway in Monte Rio as I know that's about a 2 minute ride East down 116. He wants to do a shortcut on Moscow Road saying that Rob wouldn't care if we went off route as long as we don't miss a Control. I beg to differ on Rob's Rules of Order. There's a hand-painted sign that Moscow Road is closed up ahead so we decide to not press our luck on that sign being wrong. We head West on 116 with luckily a correction that Duncan Mills is only about 5 miles, not 20 miles, of really easy riding. Robert's life is spared.
Some Randos are just finishing up lunch at Duncan Mills General Store and offer us their table. Sandra is ready to roll out and we find out that she never stopped in Freestone! And yes we never see her again the rest of the ride as she peddles off West. We go in to grab food and drinks. I make another rare non-vegan choice of an egg salad sandwich on a sourdough roll since there are no vegan options at the deli counter and packaged food isn't sounding appealing or substantial enough. Two very nice women are slinging sandwiches and it takes us awhile to get our order even though it seems like no one else is there. People materialize out of nowhere to grab their sandwiches though. These kind of general stores are really cute and I always wish I had some reason to go by them more often. Alas, they're always basically in the middle of nowhere and I'm there on a bike. I don't know about the other guys, but I feel like I won the lottery when I finally get my sandwich and can't wait to eat! Robert and Brian decide that they're only going to eat half of their massive sandwiches. I forgot what Ioannis got, but it could be that he ate it so fast that I didn't even catch a glimpse of it. Brian and I eat our entire sandwiches rather than take half with us. Robert packs half of his to go while I slather on another layer of sunscreen. I'm wishing Robert luck that he survives eating the rest of his egg salad sandwich after it's been in his saddlebag for another hour or so on a pretty warm day.
The last time I was at the intersection of 116 and 1 in Jenner was on the 2021 Healdsburg 300k when it was overcast, cold, and windy. Today it's sunny with enough of a breeze to make it feel quite pleasant! We're all really digging the spectacular ocean views as we ramble south through Sonoma Coast State Park. I pass Ioannis on one of the curves, which I impress myself with taking it faster than I have in quite some time. I'm generally afraid of curves which one look at the scars on my legs and arms should explain why. I really do not try to hurt myself ever and one never gets comfortable with road rash pain. I apologize to Ioannis each time I pass him on a curve going into a climb as I don't want to lose my momentum. He can pass me on the climb parts if they're long enough! At one point I've passed Ioannis when Robert comes shooting out of nowhere to fly by both of us. I scream out "CHEATER!". This part of 1 is a lot of fun since it's rolling hills that you can maintain a great pace on with unbeatable views. I forgot where it was that we all pulled over as we wanted a photo from that pull out. We start jokeing about wanting a photo of someone else in the group on the very edge of the cliff. We get to Diekmann's Bay Store in Bodega, another Control, and where Robert said he was going to eat the rest of his sandwich. I'm not sure if or when he ever eats it as I just know that here he went into get something to drink and some chips. I'm a bit distracted by the view and texting Justin an update on where we are with some photos.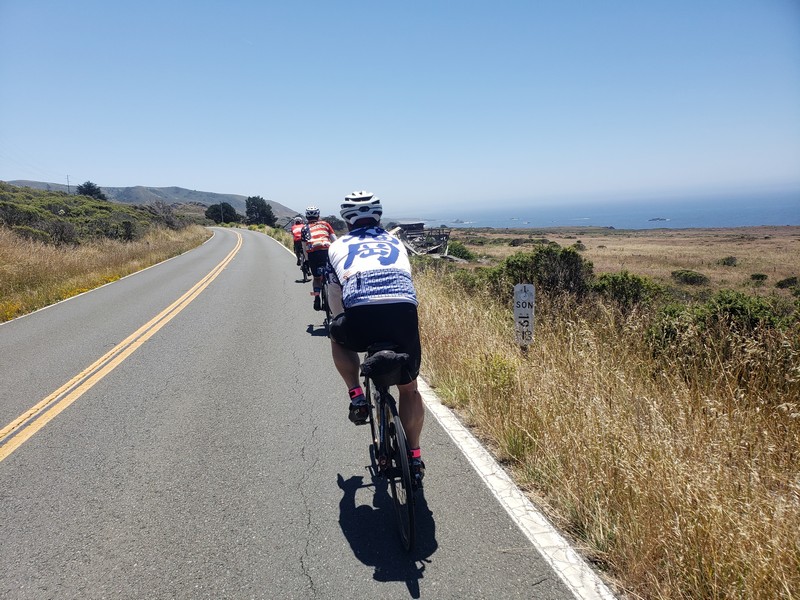 The boys riding south on Highway 1
We get back to Valley Ford again which I'm not sure where we're going from here since I know we're going to Tomales, but there are 3 different ways we usually get there from here. No stop at the Valley Ford Market this time either. We take Option C which is back down Shoreline Highway. We lose Brian somewhere between Valley Ford and Tomales. A few cars pass us driving a bit erratic and way too close for comfort. I kinda wish Kitty was with us since she has no qualms about yelling at drivers who don't give the minimum 3′ defined by state law for cars passing cyclists. I look at Route One Bakery and want to burst into tears as they are also closed on Mondays!! Where am I going to get my post-ride cookies now?? How could they be closed today? WTF? ARG! I mean this is the main reason why I bought a handlebar bag so I can haul their cookies home with me! *sigh* I go into the Tomales General Store to get some sparkling water to drink there and still water for my water bottles. Robert's been on me to adjust my saddle height and gives me his multitool to adjust it. I drop it down a bit since even though my knees haven't been hurting, my right hamstring has been bothering me on this bike since I rode 85 miles with a slow rear tube leak in last Fall's Winters 200k ride. We still have no sign of Brian. Robert calls Brian who says that he's been wrestling with his multitool on the side of the road. We start laughing at images of Brian literally wrestling with his mutltitool and the multitool having him pinned to the ground. Brian finally rolls into Tomales 20 minutes later which I joke that he's here and we can go now, which he shoots me a look like there's going to be a shallow grave next to the USPS office there soon. We start talking to a bike tourer who is Canadian, but riding the coast from Seattle to Santa Monica on holiday. We wish him well as he starts heading south. We patiently wait for Brian to be refreshed and ready to roll back to San Rafael. I look up the RWGPS map and communicate that we're not going through Point Reyes Station to get back as we're going around Nicasio Reservoir instead and back that way. That also means that our only other place we can stop on the way back will be the Nicasio Market.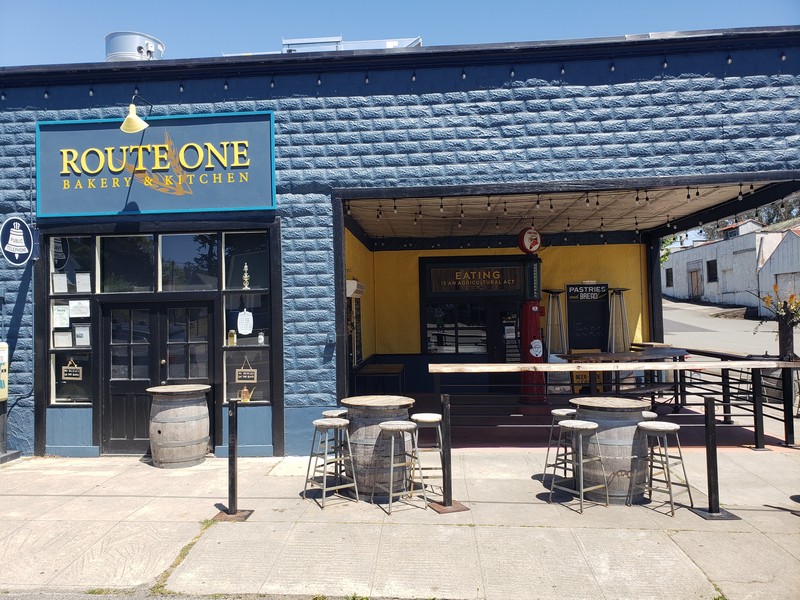 *sob*
Practically in the home stretch now and we pass by our Canadian friend who we chat with for a bit more as we ride along. We stop in Marshall as Brian wants to adjust his saddle again as his saddle is definitely looking too low. Robert still thinks that my saddle needs to be even lower so he gives me his multitool again to lower it more. This seems too low though as now my legs are hurting for other reasons, but I'm too stubborn to pull over and raise my saddle back up again. We resume riding towards Nicasio and pass our Canadian friend again, which I tell him that we're not doing this on purpose so we can keep passing him. For some reason that last little stretch to Point Reyes Station seems so long even though it's not. We turn left onto Point Reyes – Petaluma Road as I ask Brian how his smurf bike is. We meander along and around the Nicasio Reservoir as some cars get way too close to us as they're passing, including one towing a horse trailer.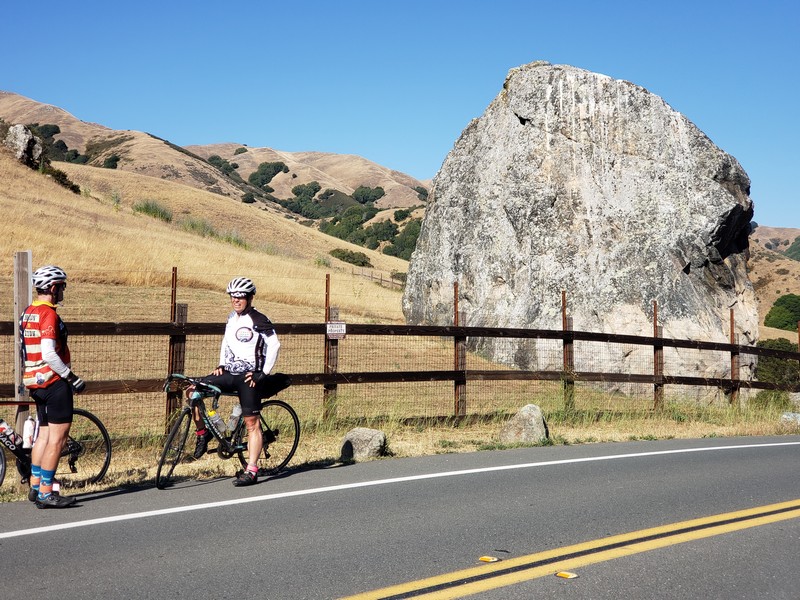 Robert and Brian at the top of Lucas Valley Road
Safely back on Nicasio Valley Road, I can breathe a little easier knowing that we'll have less traffic since most cars are heading back towards Petaluma. We're also on the home stretch since we've got just a few miles before we turn back onto Lucas Valley Road. The guys stop at Nicasio Market for a bit of water before the last climb back up and over Lucas Valley Road. I'd been worried about it being really hot for the last climb and happy that the temperature is fairly reasonable. We roll back out one last time to the last climb of the day. I've done this climb much more tired and in worse shape than I am now so I'm not worried about it. Robert hangs back a bit to keep me company while Ioannis and Brian charge on ahead. We get to Big Rock at the top where Brian and Ioannis are waiting for us and we take a few photos. This descent is notorious for injuries (and cyclist deaths) since some people will try to do it as fast as they can when it has sharp blind corners. All 4 of us saw that we're descending this slowly as we want to…live. We all safely get to the bottom and continue the long flat back to the Smith Ranch Park & Ride lot. Brian and Robert get there a few minutes before Ioannis and I get there since we got hung up at a red light. I promptly text Rob that all 4 of us finished. He asks us if Sandra is with us since she hasn't checked in yet. I tell him that she isn't and we don't see her car. I text Sandra asking if she's checked in with Rob yet since he's looking for her. She finally replies several minutes later that she just checked in with him as of course she finished earlier than us since she stops less and for less amount of time than we do. Robert, Brian, and I say bye to Ioannis and head towards home. It's still a bit warm so Robert insists on finding a 7-11 so he can get a slurpee. I find some humor in this that the guys are getting slurpees, which I haven't had one since I was a kid and no desire now to have something so sweet and artificial tasting. For some reason Robert starts thinking that it'll be faster and easier to take 580 back, which they have to drop me off in San Bruno which isn't in the East Bay! Brian says that they can't since the only way to get me home then is to shoot me out of a cannon from the East Bay. I look at Brian and immediately say "NO!" I know better that if we were cartoons, he'd do that to me an instant. Luckily we aren't so he safely drops me off at home via his car. Great way to spend a day off from work!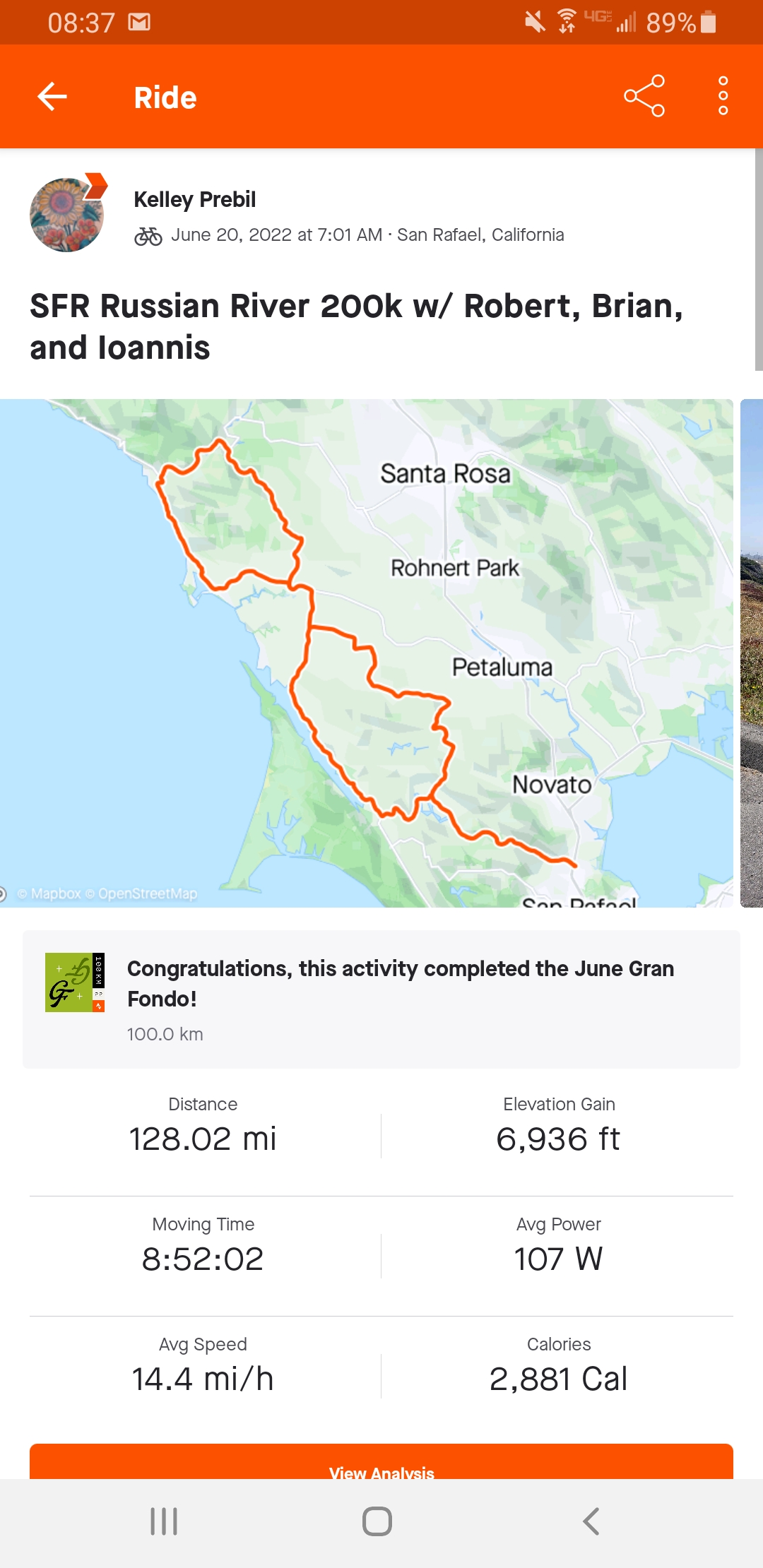 SFR Russian River 200k